Tonight we had a dinner party! I started on a lot of this late last night so I wouldn't be scrambling but I always scramble!
I like appetizer dinners. You get a little of everything, and a variety of tastes can be suited. Tonight the menu was:
Avocado Salad
Stuffed Mushrooms
Beer-Battered Onion Rings
Tempeh "Wingz"
Spinach & Artichoke Dip
Yummy Spread
Bread
Oreo Cheesecake!!
(Recipes that I can give out are below)
Pictures of the guests and the food:
Group, clockwise from left: bf, Lauren and Zack, Luis, Sam, Jaime, Scooter, and Becky
Luis and me and the dogs
I wonder what John Cusack's up to tonight...
Bread pan battle scar!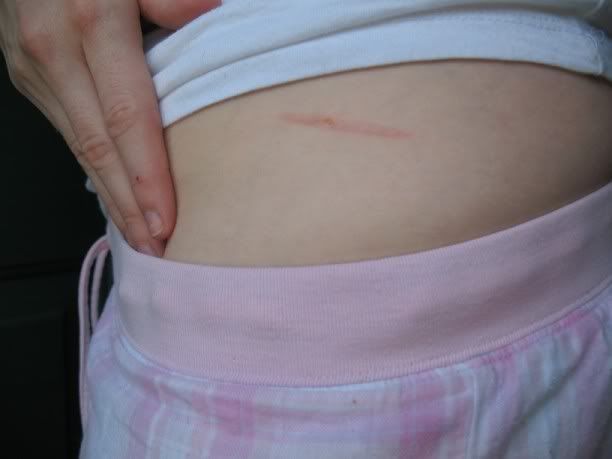 Stuffed Mushrooms
- I love stuffing and I love mushrooms so this is pretty much awesome for me. This recipe is based off of VWAV but I changed it a bit.)
30 large mushrooms, cleaned
3 Tbsp. olive oil
*1 small or 1/2 of 1 large onion (1 cup finely chopped)
*2 cloves garlic, finely chopped
*handful of your fav. herbs: I used a lot of basil, some oregano, and thyme, fresh
salt and pepper to taste
*1+ cup your favourite stuffing bread (I use bagged plain stuffing bread, not StoveTop type)
*bullion powder
*tad water
Preheat oven to 375 F
De-stem mushrooms, and finely chop stems and put stems in separate bowl
Bake mushrooms in oiled or sprayed large pan for 10 minutes.
While the mushrooms are baking, make stuffing: saute stems for 5 min, add garlic, onion, herbs, salt, and pepper and cook 5 more minutes
Add stuffing bread, water, and bullion. Add some water to fully hydrate stuffing, but give it time before adding water. Don't add too much. Just enough to hydrate bread. Set aside.
When mushrooms are done, drain liquid and place stem-side up. Stuff each mushroom and place back in oven. Bake 20 minutes more.
Beer-Battered Onion Rings*
- I got this recipe
here
. *If you prefer to not use alcohol, chilled club soda will work fine.
Tempeh "Wingz" and Spinach-Artichoke Dip
are both from
"Don't Eat Off The Sidewalk"
. It's a cook-zine and it's only $2.50 and that includes shipping. You really should get it! I added some Follow Your Heart cheese to the dip but that's completely optional.
Yummy Spread
is from Lolo at VeganYumYum. She has a book coming out. Her site is in my links. She is pretty awesome and really nice so when her books comes out you should buy it.
Bread
. I made an easy bread from this recipe at
Vegweb
. Thanks M. Gorhon from PPK for the suggestion. I used about 1/2 and 1/2 white flour and Whole Wheat Pastry Flour. This makes 2 good size loaves, so feel free to cut in 1/2! With this appetizer dinner, no one will talk bad about you if you get storebought bread. I decided not to though, because I cannot really find a nice crusty bread that's vegan. All the ones a Publix have egg wash. Eggwash, you are dead to me. Soymilk works just fine!
Oreo Cheesecake (with raspberry sauce)
This cheesecake is from Delicious Choices. I simply used a store-bought Oreo crust and added about 1 cup crushed Oreo-style sandwich cookies to the batter before baking. Since I believe the Delicious Choices recipes are no longer being sold, I will post it here. If you DO find them, please support the author and buy them.
Oreo Cheesecake
2- 8oz pkg Tofutti Better Than Cream Cheese
2 cups Sour Supreme Sour Cream
1 cup sugar
1 1/2 tsp vanilla
1/2 cup flour
1 1/2 Tbsp (1 Tbsp + 1 1/2 tsp) egg replacer powder dissolved in 1/2 cup water
1 cup crushed Oreo-style cookies
Comb. cream cheese, sour cream, and sugar until fluffy.
Add vanilla, flour, and egg replacer/water, and cookies beating well after each addition.
Pour into prepared 8" springform pan. Set in 8" pan in a 10" springform pan.
Pour hot water into 10" pan until 1/2 of the 8" pan is submerged.
Place in preheated 300F oven and cook 1 1/2-2 hours until center is set and sides begin to pull away from pan.
Do not unmold cheesecake until completely chilled. Chill 10 hours or more.
Raspberry Sauce
:
1 standard bag frozen raspberries
sugar
water
cornstarch
more water
maple syrup (opt.)
*Set bag of raspberries on counter and thaw. Place thawed raspberries (and juice) into a sauce pan and add sugar. The amount is up to you. I would say I used 1/3 a cup or less, but added some maple syrup. It's to taste.
*Add a little water (1/4 cup?) and bring to a boil, whisking often.
*Mix about 1 Tbsp. corn starch/arrow root starch in a couple Tbsp water and dissolve
completely
. Add cornstarch/water right before mixture comes to a boil. *Continue to cook and whisk until thick. Set aside to cool.
*
optional for presentation
: strain through a fine mesh strainer. Put strained sauce in a squeeze bottle and decorate anything you want. The seeds can be added to bread or yogurt for breakfast or whatever. Don't throw them out.