I'd never had white chili as an omnivore, but the basic concept is a chicken-ish base, green chilis, and white beans. You may want to ease up on the green onions- I am an addict! It's personal preference.
Also, this turned out like a soup instead of an actual "chili". Please note the "***"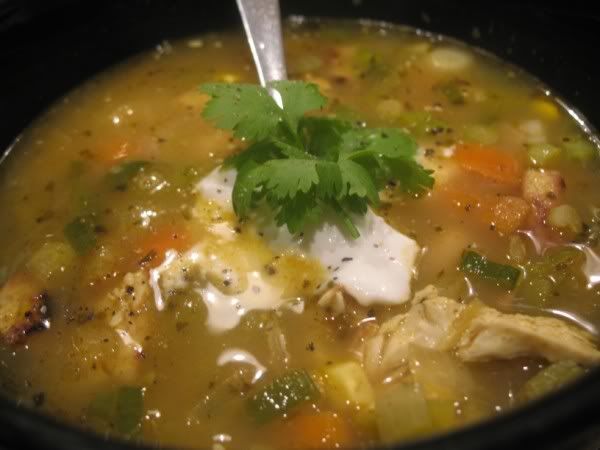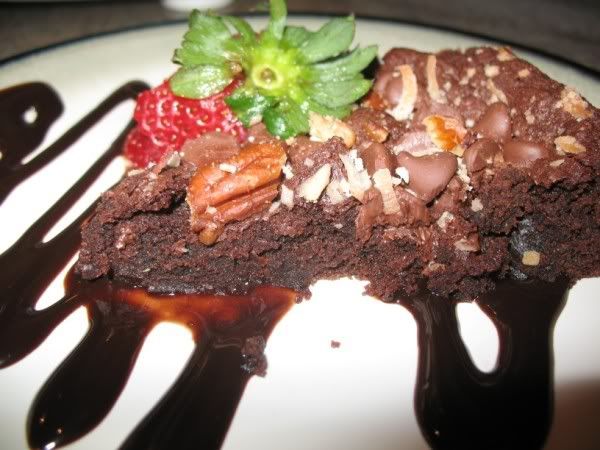 White Chili
You Will Need:
1 Tbsp olive oil or oil/margarine mixture
2 small/1 med or lg carrot, diced
1 onion, diced
2 cloves garlic, diced or minced
1 tsp cumin
1 tsp oregano
1/2 tsp cayenne pepper
4-6 c vegan "chicken"/vegetable broth of choice***
1 tsp green Tabasco (opt)
3/4 (approx) corn- cut from the ear, canned, or frozen
1 4oz. can green chiles (keep juice)
2 cans white beans (or about 3 cups if you cook your own)
3-4 stalks green onions (white and green parts), cut up into rings
cilantro for garnish
1 package Morningstar Farms "Chickn" strips, 1 1/2 c "chicken" seitan, or protein of choice
vegan sour cream and/or vegan white cheese, for garnish (opt)
*Heat a stock pan and add oil on MED.
*Saute onions, carrots, and garlic until carrots are softened.
*In a separate pan, cook Chikn strips until crisp in a bit of oil. Set aside and chop roughly.
*Add cumin, oregano, and cayenne to onion mixture and saute 1 min more (spices will become fragrant
*Add stock and bring to a boil
*Reduce heat and add chiles, beans, Tabasco & corn and cover. Cook 10 min
*Add chikn strips and cover, cook 10 min more, adding green onions at the 5 min mark.
*Garnish with desired toppings and enjoy. You can add tortilla chips to the soup, or leave plain.
***4 cups for a thicker soup, 5-6 for a thinner one. I went with 6 cups, but it's up to you.
Brownies! I
wish
I could say this is my recipe, but alas!
Chunky Monkey Brownies by Beverly Lynn Bennet
Originally published in the May + June 2008 issue of Veg News, found on PPK from
Love Like A Vegan
. I left out the banana chips and subbed pecans for the cashews. I also served these as work to unsuspecting omnis. Score +2 for veganism (evil laugh). Also, I used cornstarch and it worked as well as the arrowroot (made 2 batches).
3/4 cup sugar
1/3 cup safflower oil [I used canola]
1/4 cup water
1 tsp vanilla
2/3 cup whole-wheat pastry flour
2/3 cup cocoa powder
4 tsp arrowroot (I used corn starch)
1/2 tsp baking powder
1/2 tsp sea salt
1/3 cup dried banana chips, coarsely chopped (I omitted and these were still great!)
1/3 cup chocolate chips, coarsely chopped
2 tbs dried coconut, shredded
1/4 cup cashews, coarsely chopped (I used pecans)
1. Preheat oven to 350 degrees. Lightly oil a 9-inch square pan [I used an 8 inch) and set aside.
2. In a medium bowl, stir together sugar, oil, water and vanilla. Sift in flour, cocoa powder, arrowroot, baking powder and salt. Stir well to combine.
3. Pour batter into prepared pan. Evenly scatter banana chips, chocolate chips, cashews and coconut over top and press gently with hands into the batter.
4. Bake for 25 to 30 minutes or until set in the centre. Allow brownies to cool completely before cutting into nine squares.