The
Quiche
is from Isa over at Post Punk Kitchen. It was really good and held together well. I had no cashews on hand and it still came out great.
Quiche with Spicy Sausage-Cornbread Stuffed Mushrooms (recipe below)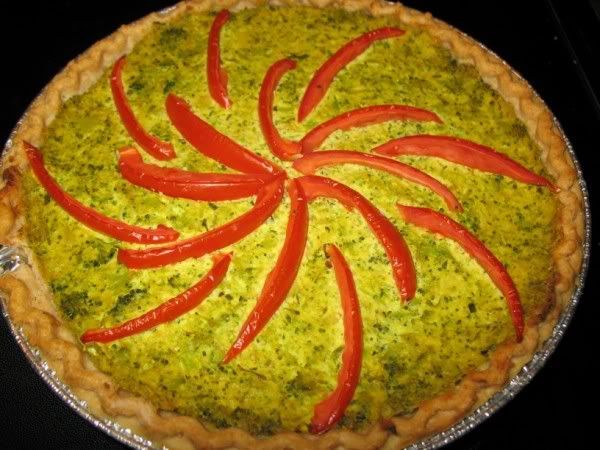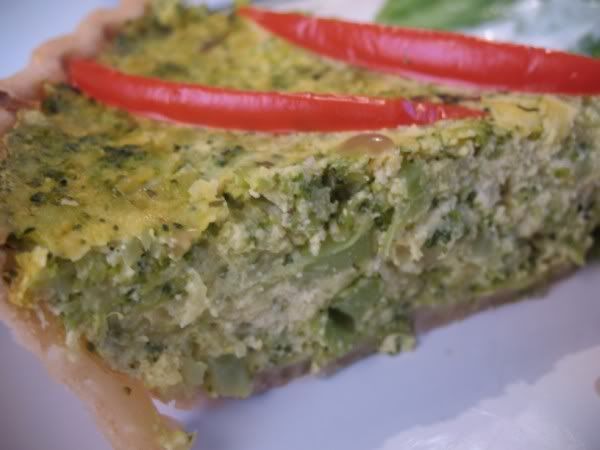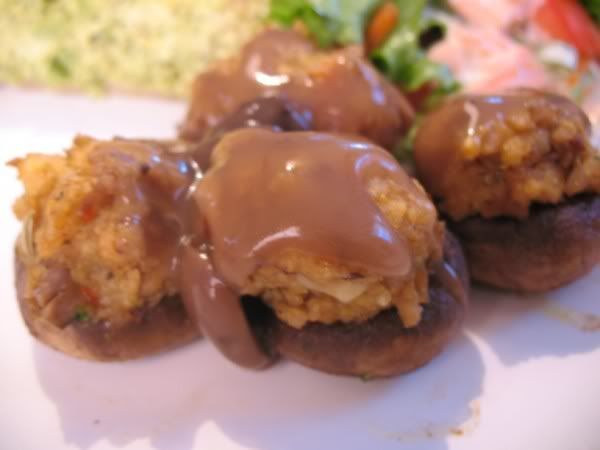 Bryanna Clark Grogan is invited to my house any day! I have 2 of her books:
Nonna's Italian Kitchen and Authentic Chinese Cooking
. While I will admit that I enjoy the virtues of a 30-minute meal (or coming home to a meal, hint hint) as much as the next gal, there's nothing wrong with a recipe within a recipe.
Many of Grogan's recipes have a smaller recipe in them and that's fine. She does offer an alternative as well for most of them if you don't have the time. Take the time!
Here is homemade "Beef" seitan from the Chinese Cookbook. I made the Beef and Broccoli (added mushrooms and green onions), had some "beef" left over, and just stir-fried it with some Black Bean Sauce, mushrooms and green onions. Truth be told, this recipe didn't take long at all. Did I also tell you I want to marry green onions? I put them in anything that's not dessert.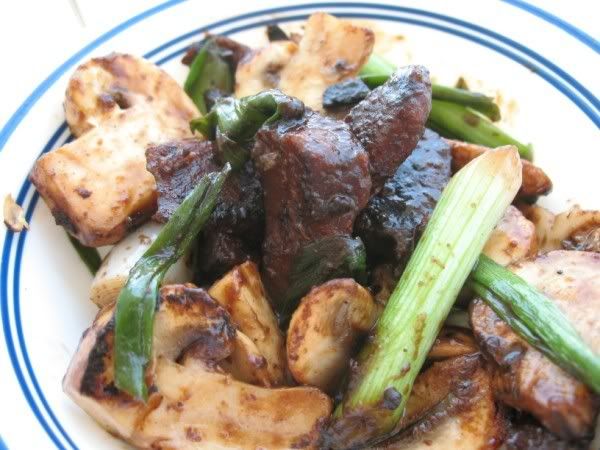 Spicy Sausage-Cornbread Stuffed Mushrooms
15-20 mushrooms (I had small)
1/4 pack Gimme Lean Sausage Style
1/4 tsp crushed red pepper flakes
1/4 tsp fennel seeds
about 1 C cornbread-style stuffing
about 3/4-1 C light vegetarian broth of choice
1 Tb earth balance margarine or olive oil
Clean mushrooms. Pop stem out of each mushroom and dice small.
In a large skillet/pan, heat earth balance and place mushrooms in stem side up, browning, and flipping over. Moisture will come out of the caps when flipped over and that's fine.
When mushrooms are evenly browned on both sides (but still firm), remove from pan and place stem side up in a baking pan.
Add sausage, fennel, red pepper, and mushroom stems to the cooking pan. Brown sausage and chop while cooking. Add Earth Balance if necessary.
Ad stuffing and broth, and remove and let cool down to handling temperature.
Stuff each mushroom by grabbing a small handful of stuffing, squeezing it to compact it, and placing in mushroom caps. Bake all mushrooms at 350 for about 10-15 minutes. I served them with Campbell's Mushroom Gravy