Lauren and Daniel came to visit and Lauren requested Pho and Spring Rolls. So..Pho and Spring Rolls they had.
I use
this
recipe as a base, but I use Better Than Bouillon vegan beef broth, and this time I added a cube of vegan Pho bouillon. You have to be careful to adjust the salt/soy sauce and the liquids used, make sure it is balanced. I just wanted a deep flavor, but the flavor mostly comes from the charred vegetables in the recipe, specifically the anise pods. I am re-posting the recipe here with a few modifications.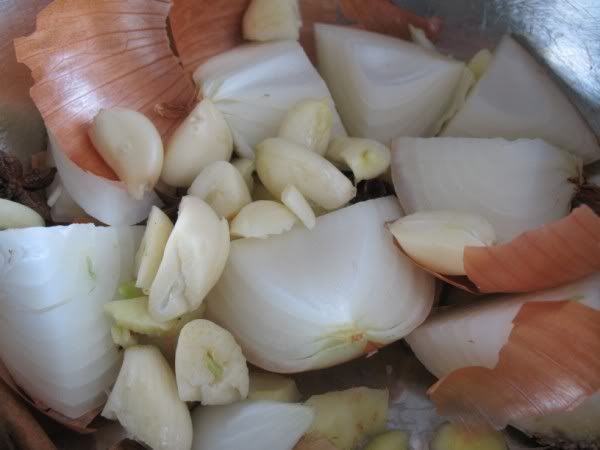 Pho
from elliemay.com
for the broth...
1 small unpeeled onion, quartered
2 unpeeled shallots, halved (can also use more onion)
8 garlic cloves, halved
a 1-inch piece of ginger, coarsely sliced
two 3-inch cinnamon sticks
2 pods of star anise
4 cloves
8 cups clear vegetable stock
3 tablespoons soy sauce
salt
for the soup ...
about 1 pound rice noodles (I use less)
8 ounces seitan or fried tofu, sliced
6 scallions, thinly sliced
about 1-1/2 cups bean sprouts
a good handful of basil, mint or cilantro leaves, left whole
1 lime, cut into wedges
hoisin sauce
sriracha chili paste
Cooking Instructions
To make the broth, heat a large pot over medium-high heat. Add the onion, shallots, garlic, ginger, cinnamon sticks, star anise, and cloves and dry-roast, stirring occasionally, until the vegetables begin to char. Add the stock/bouillon/paste and soy sauce and bring to a boil over high heat. Turn the heat down to medium-low, cover, and simmer for about 25 minutes. Strain into a clean pot and discard the solids. Taste the broth and add salt if necessary. Keep warm over low heat.
While the broth is simmering, prepare the rice noodles and if you haven't done so already, cook your seitan or tofu. I like to use beef seitan, sliced thin and seared over high heat on each side. Add a little steak sauce or marinade for the finish.
Place the noodles in a large bowl. Pour boiling water over the noodles to cover and soak for 20 minutes OR boil rice noodles until done (happens quickly so stand by) and drain/rinse.
When you are ready to assemble the soup, pour broth into each bowl, add noodles to the broth and set up the rest of the ingredients on a platter. Set in the middle of the table. I like to do it this way, family style so each person gets exactly how much of everything they want.
Makes 4 to 6 servings
Spring Rolls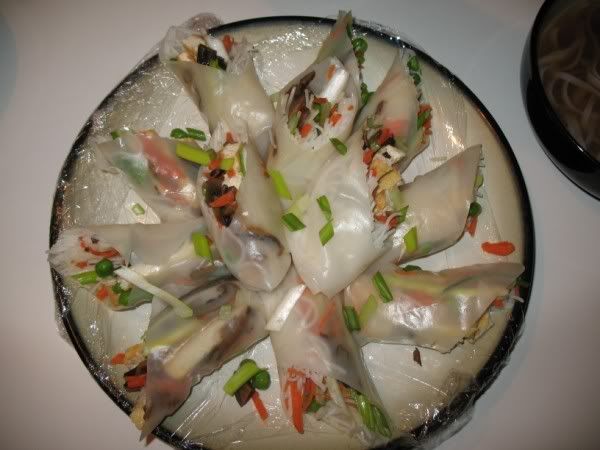 This time, the spring rolls had teriyaki mushrooms, carrot, green onion, rice noodles, and tofu. I soaked some dried shiitakes until tender, then sauteed them with button mushrooms and added teryaki sauce to finish. Tofu was simply sauteed in peanut oil until crispy then cut from slabs into strips. If eating with the pho, you may want to skip the rice noodles, and cut romaine lettuce into ribbons. If anyone doesn't know how to do spring rolls, leave a comment and I will include instructions or a link to instructions. Also, serving on saran wrap adds a real touch of class!(not).
I used Vegan Planet's peanut sauce, but used homemade "fish" sauce and soy instead of all soy. It was fantastic!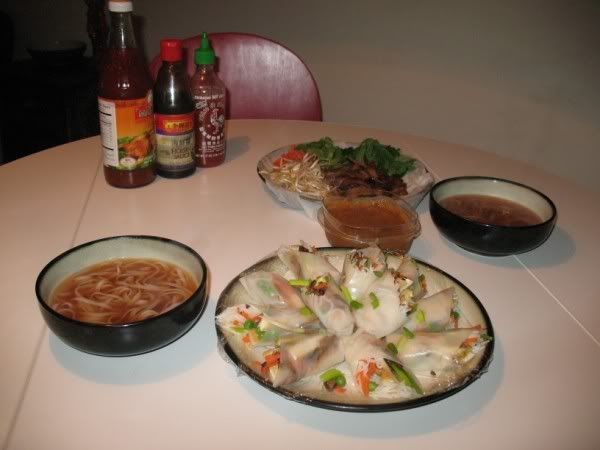 Bonus pics!