I made these shells with more veggies in mind. It was actually supposed to be a lasagna but I didn't have lasagna noodles. I made it with Mean Green Spinach sauce, but about 1/2 the recipe was used, so if you are *just* making this, then 1/2 the recipe.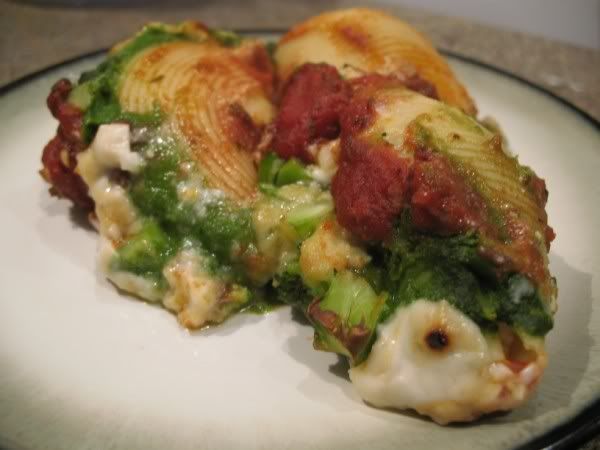 The Mean Green sauce is VERY spinach-y. If you don't like spinach a lot, then I would suggest to pick another sauce or omit.
Green Stuffed Shells w/Mean Green Spinach Sauce
1/2 recipe Mean Green Spinach Sauce (recipe follows)
1 small batch white sauce (recipe follows)
1 recipe tofu ricotta
3-4 med size piece seitan, chopped, cooked and seasoned (maybe 3/4-1 cup)
pasta shells (I used about 12 but used 10oz tofu. Adjust for your ricotta recipe)
spaghetti sauce for pan
hand full (1 c) chopped broccoli
*Make whichever tofu ricotta you like. Chill in refrigerator.
*Cook seitan until crispy and mix with ricotta. Chill while you prepare dish.
*Cook large pasta shells as directed, and rinse with cold water. Set aside. Do not drain water. Throw broccoli in boiling water and cook a few minutes until tender but not mushy. Chop and set aside.
*Make Mean Green Spinach Sauce and white sauce while shells are cooking (or make spinach sauce the day ahead and chill).
*Pour a little spaghetti sauce in a small square nonstick baking pan.
*Fill cooled shells with ricotta mixture. Top with broccoli.
*Place each shell in pan, and top with Mean Green Spinach Sauce, White Sauce, a little more shapgetti sauce, and optional vegan cheese.
*Bake at 350 degrees for 30-35 minutes, until well-heated through. Broil to melt cheese the last couple minutes, if using. Keep an eye on it.
Mean Green Spinach Sauce
1/2 c packed cilantro (or if you are a hater, just double parsley)
1/2 c packed parsley
1/2 frozen block spinach (makes 2-2 1/2 Tbsp spinach when thawed and squeezed). You could probably also just use 2 lare handfuls fresh spinach
1 c vegetable/vegan "chicken" flavor broth
2 Tbsp. soy milk
1 Tbsp. vegan margarine
1/2- 1 tsp. cornstarch
Blend everything very, very well in a blender and place on low heat until thickened and just barely boiling. Makes a crazy bright green sauce. I would suggest to eat it with another sauce. It's strongly flavored, but good in applications like this.
White Sauce
1 Tbsp. vegan margarine
1 Tbsp. flour
1 Tbsp. nutritional yeast
1/2 c soy milk
salt and pepper.
Melt margarine in a saucepan, then whisk flour and nutritional yeast until crumbly and toasted. Do not burn. Add 1/4 c soy milk and break down chunks. Add other 1/4 c soy milk and keep stirring until thickened but not too thick. Set aside.