I had this dish in my head for about a week. It came once again, from gluten-free cooking, and I really like polenta anyway! My favorite way to eat it is crispy fried on the outside. I thought it would be delicious Mexican style over beans, so here we are! I also got to take advantage of the Farmer's Market and I got heirloom tomatoes and bell peppers at a *very* reasonable price, which I am psyched about! Called "Peppered" because I have mild bell peppers, fried jalapenos, and chipotle (smoked jalapeno) powder.
If you are going to make this, then do the polenta and marinate the tofu the day before. You may even do the salsa w/o the avocado and add it last minute.
Don't be intimidated by the length of the recipe, it's just several simple components, and you can do it if I can
! Keep polenta and tofu warm in the oven if you need to, while preparing the plates.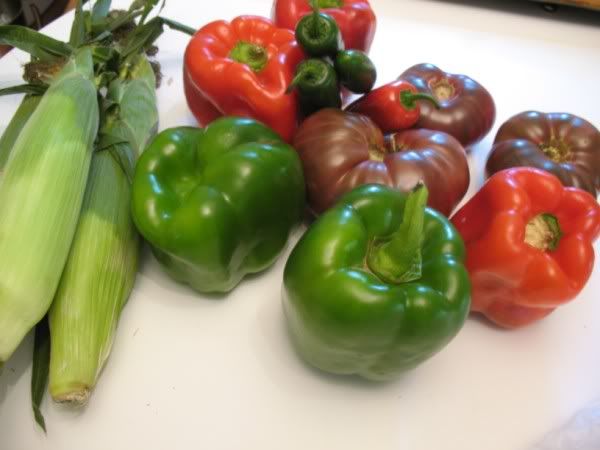 Peppered Mexican Polenta Stacks
(Makes 4 servings with leftover polenta)
Tofu:
1 lb tofu, cut into 8 slabs and pressed
Tofu Marinade- Wheat Free Soy sauce, brown sugar, sherry(or tequila/alcohol/lime juice), cumin, smoked paprika, chipotle powder, onion powder, water, vegetable oil. Adjust to taste. Water should be used only if marinade needs to be mellowed. Marinate an hour minimum (I like overnight). When ready to prepare, just saute in peanut or vegetable oil. Keep it simple.
Polenta
-
3 1/2 c water
1 c polenta corn grits (not instant grits, y'all!)
2 tsp vegan "chicken" broth bouillon*
1 scallion, minced
1/4 c loosely-packed cilantro leaves (measure out then mince)
1 Tbsp olive oil/margarine
salt to taste (I used about 1-2 tsp)
Heat water in a medium saucepan. Whisk in bouillon while heating and heat to boiling. *You can also use premade veggie broth or any other combo bouillon/water. I make mine weak for things like this. Whisk in polenta in a steady stream. Stir often. Add water if polenta becomes really thick. I did about 1/3 cup. Cover and turn heat down, cooking 15 min. Stir often. Add scallions/cilantro and olive oil/margarine and turn heat off. Stir once or twice while polenta cools for 10 minutes in pan. Pour into container and let come to room temperature, then refrigerate until completely firm all the way through. I would say 1 hour minimum in a shallow pan. From here you can cut into desired shape and fry until crispy on each side.
Note: You can use the tubes of polenta that you find in the produce section. However, making it at home is way less expensive and the 20 min you put in can really impress because you added the cilantro and scallion flavor/color.
Beans
-
I usually take refried beans (I have red refried beans, Frijoles Rojos Volteados, Natura's brand) and add stock, but I added a little extra this time. I fried up some red onions and garlic, then blended them with the stock so it would be completely smooth. General ratio is 1 c broth to 1-16oz can beans. I also add a hunk of margarine for flavor/fat since we are using lard-free. Add salt if necessary. These simmer on low for about an hour. Be careful and go slow, the mixture will blend eventually.
Tomatoes
-
Thick slices of heirloom sprinkled with salt and pepper. (I was going to broil these but they are fantastic by themselves.)
Peppers
-
Roast 2 red and 2 green bell peppers. Put in a paper bag or plastic container with a lid and let cool. Skin and deseed. DO NOT rinse. Cut into strips to make sure each plate gets some of each pepper.
Jalapenos
-
To keep gluten free, use a GF flour like rice flour. Just chop fresh jalapeno to desired shape (I like strips because it doesn't include seeds), roll in flour, then soy buttermilk (soymilk plus a small amount apple cider vinegar), back in the rice flour and fry. These are for garnishing the top. This is optional but it's fun and pretty and quick. It also adds a punch if your peppers are hot!
Sweet Avocado Salsa
-
1 ripe avocado
1 ripe mango
cilantro
small amount minced red onion (couple Tbsp)
fresh lime juice
handful fresh cut corn kernels
Do your thang! Chop those avocados and the mango, mix all ingredients except avocado. I pulsed in food processor. Fold in avocado so it keeps its structure. Corn is optional, but I like the mixture, and raw corn is really sweet and it ties into the corn in the polenta.
Plate as desired! I did it like this:
Beans on bottoms, polenta, tofu, tomato, roasted red peppers, polenta, tofu, roasted red peppers, fried jalapenos.
My presentation was a little sloppy because we had 5 hungry tummies and I didn't want it to get cold!