Thanks to the internet, I have a new ingredient in my kitchen- black salt. Read more!
I've decided that "egg" salad is really subjective and it really depends on what type you had as a kid, if you had it at all. This recipe approximates my mom's egg salad. She likes green olives in it, so I grew up with that. I'm a big olive fan so that's great for me. (Funny enough, she doesn't like black olives!). The original recipe contains regular mayonnaise and a little Miracle Whip (the Miracle Whip is why there's a pinch of sugar). I subbed for Vegenaise and Spectrum vegan mayo, but I don't think it's a big deal to make it varied. If you do not like the smell/taste of eggs, do NOT make this recipe with the black salt. It will taste less eggy and more tofu salad-y if you sub regular salt for the black salt.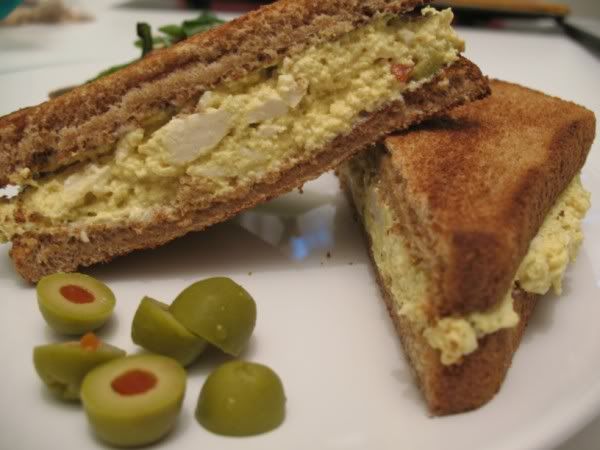 Ingredients-
1 lb firm water pack tofu
1/3 c vegan mayonnaise to start (Mostly veganaise, with some Spectrum vegan, OR your preference)
3/4-1 tsp prepared regular yellow mustard
1/2 tsp
black salt
1/4 tsp celery seeds
kosher or sea salt to taste
freshly ground black pepper, to taste
turmeric for color (opt)
5 chopped pimento stuffed green olives (opt)
1 pinch sugar
Drain and press tofu really well. (Most of the time I press just for 5 or 10 min, but I did this for over 30 min. You want no water left at all because this can easily become watery. I always use a kitchen towel so there's no waste, and it absorbs better than paper towels)
Mash tofu in a bowl with a fork and add mayo and mustard. Mix. Sprinkle seasonings evenly over mixture and mix well. I ended up adding more mayonnaise. Make sure you crumble up the black salt. I noticed it sticks together so you don't want to bite into a chunk of it. Chill 1/2 hour at least to let flavors develop. Season extra to taste/color preference.
I always had these in a sandwich.