I'm going to be honest. I've never intentionally made a gluten free meal. I never "had" to. Well, we made a new friend, JL, and he is gluten-intolerant. Also lactose intolerant, which lucky for him is not an issue whatsoever in a vegan kitchen.
I can relate now to people who try to cook for vegans and don't know what they are doing. As a cook, I view it as a challenge and a chance to get my feet wet, not a chore. I think as a vegan, I can sympathize. (Do they really have to put whey in an otherwise vegan cracker/soup/bread? Why is there gluten in almost all soy sauce?) I think instead of lamenting, we should COOK! And once you look into it, you may find foods you never knew you liked. If any GF vegans want to post resources in the comments section, feel free!
I will share another secret. I totally made this crust up and hoped for the best. I feel it turned out well, and I would make it for a pie whether or not it was gluten free. It tasted like a mild shortbread, in my opinion. It could work for pumpkin pie, chocolate pie, etc.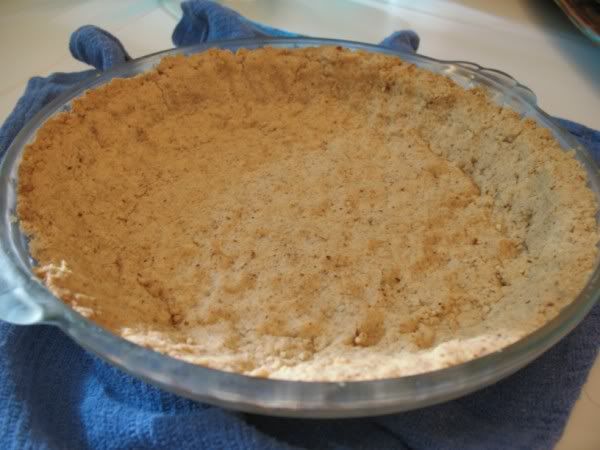 Gluten Free Pie Crust (vegan)
1/2 c whole oats
1/2 c whole unpeeled raw almonds (can probably used roasted almonds)
2- 2 1/2 Tbsp sugar (I used brown sugar)
3/4 c rice flour
1/4 c potato starch
1/2 c cold vegan margarine (make sure it's gluten free. Shortening can probably work, too)
In a food processor, chop the almonds with the oats until fairly fine. I like a little texture. Add sugar and pulse. Then add flours.
Cut the margarine into chunks and add. Process until even texture throughout. Mixture should hold when pressed together. If too dry, add a TINY amount of non-dairy milk or icewater.
Bake 10-15 min in a 400 degree oven. Crust will not be very golden, so don't overcook. It's a little cake-y when hot, but when cooled it's like a crust should be. This picture is a 9-inch plate.
If anyone wants to play with this recipe and report back, I'll post your findings and link to your blog if you have one. I think it would work fine with All Purpose Flour (would NOT be gluten free) and pecans.
In case you were wondering, I made the VegNews chocolate peanut butter cup pie. If using extracts, make sure they are GF. Tones is definitely (it's on my bottle) and I am 99% sure McCormick is.
Here is JL and Rocco (and my Kirby). Rocco is the dog on the left. He's 9 years old and very active and has a lot of zest! The dogs really like him!