Happy New Year, everyone! I hope this year brings everyone a lot of happiness.
In completely unrelated news, since I'm not hosting any parties, there's no party food. I did have some last year though if you are interested in the
Holiday Appetizer Menu
. It's got that spinach artichoke dip that I love and is omni-approved multiple times.
Today, we are talking about coleslaw and another casserole!
Coleslaw
To make coleslaw, lots of people use a ton of mayonnaise. There's nothing wrong with this, (Vegenaise is what I use) but this leads to a lot of avoidable fat and it is a bit wasteful because a lot of the sauce is wasted. To make a good coleslaw, you don't need a lot of mayo. You need
time
. I use a fraction of the mayonnaise of traditional coleslaw and I feel it has all the flavor! The salt and vinegar break down the cabbage. Make a day ahead if you will be crunched for time. I do use a bagged mix because I don't eat a ton of cabbage. If you do, then by all means cut your own. For me it's $1.29 for the Publix brand and that's cheaper than buying both red and green cabbage, and carrots. This is one of the FEW times I would ever suggest a bagged mix of anything pre-chopped.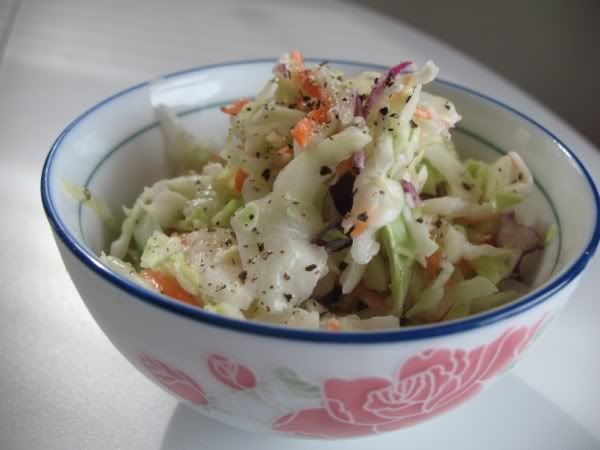 1 lb colw slaw cabbage mix (or make your own)
1/4 - 1/4 + 2 Tbsp Vegenaise or home made vegan mayo
1 Tbsp white vinegear
1 Tbsp soy milk
1 Tbsp sugar
1 tsp salt (add to taste, later)
Lots of freshly ground black pepper
dash celery seed (opt) or you can use celery salt and cut back on plain salt
Mix everything except cabbage mix in a bowl until decently integrated. Add cabbage and toss well.
It will look like there is no way it's enough liquid. It is
.
LET SIT in the fridge about 1/2 hour. Stir well. Let sit another 1/2 hour or more. Fold occasionally so the dry cabbage on top gets the liquid from the bottom on it.
Can easily double this recipe. There will be a smaller volume of coleslaw after the cabbage has broken down. I would still say it makes 4 decent side dishes.
Chili Cheese Bake
I got this idea from a PPKer and tried it myself. It's good!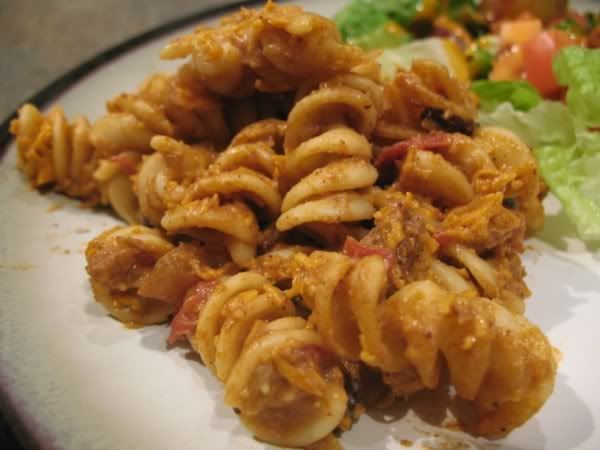 *12 oz pasta (macaroni, rotelle, something casserole-worthy)
*2 c chili, home made or canned like Amy's. I used
My own
*1 recipe
Vegan Explosion's Queso
, mostly as directed: I also used 1/2 and 1/2 water/soy milk then added about 1/3- 1/2 c extra soy milk.
*Shredded vegan cheese, optional. (I used FYH, about 1/3 block)
Cook and drain pasta, and add prepared chili and queso. Top with optional cheese. Bake at 350 degrees for 20-30 minutes.