If you're like me, your budget is
a little
pretty tight and you may need some meals that stretch. Luckily, pasta is there for you. So are canned beans and some tofu.
This pasta salad uses left over baked tofu, which is really firm and delicious the next day cold. Even
more
protein is added to the mix when you toss in your beans. You can throw in whatever vegetables you like as well. I know some people aren't crazy about leftovers, but generally those people aren't the ones who cook and should say "Gee, thanks for the grub! You are gorgeous!" instead of complaining about leftovers. Just saying.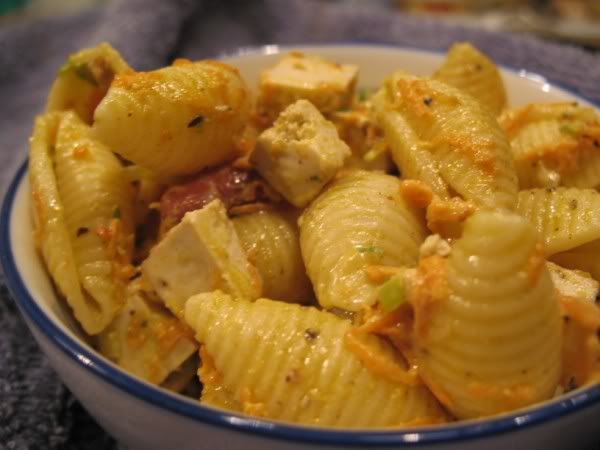 Italian Pasta Salad with Baked Tofu and Beans
Makes about 4 servings
1/2- 3/4 box small pasta shells
3-4 slabs
cold baked tofu*
, diced into small pieces (about pea-size)
1/2 can beans (I used kidney beans. Can use any bean you like)
1 carrot, finely grated
1 green onion (include white part), minced
3-4 Tbsp. vegan mayo (Vegenaise), more to taste
2 Tbsp. Italian Dressing (your favorite), more to taste
Cavender's Greek Seasoning
Salt and Pepper (fresh ground)
Cook pasta according to package directions, rinse and drain very well. Place in refrigerator.
Meanwhile, whisk vegan mayo and dressing, and do all of your chopping. Rinse and drain beans if necessary.
Mix everything (pasta, dressing mixture, tofu, beans, carrot, onion) and season to taste with the Cavender's. Go a little easy at first.
Refrigerate for 10-30 min (or overnight) and taste again, adjusting seasoning if necessary.
Can eat right after mixing, but cold pasta salads are better if the flavors hang out for a while.
~~~~~~~~~
*Italian Baked Tofu (same as in the link)
1 1b/block tofu, pressed and cut into 8 slabs. (Can double if you wish)
2 Tbsp peanut or canola oil
1 Tbsp. tamari or soy sauce
Preheat oven to 350
Whisk oil and soy sauce very well. Place tofu in a 9x13 pan and pour oil/soy sauce on top, and flip over, coating tofu well on both sides.
Bake 1 hour, turning every 15 minutes. Cool and place in refrigerator, topping with 2 Tbsp. of your favorite Italian dressing, once again coating the tofu. Place in fridge.