Sometimes when you wing it, it goes not that great. Sometimes when you wing it, it's really, really yummy! I got lucky last night. I wanted to use cream cheese and mushrooms in a savory pocket. Puff pastry is awesome for some things, but I wanted something really flaky and crisp without
as much
fat so I got some Phyllo. I had seen
Mollyjade's post
earlier in the week and wanted to do something with a different direction.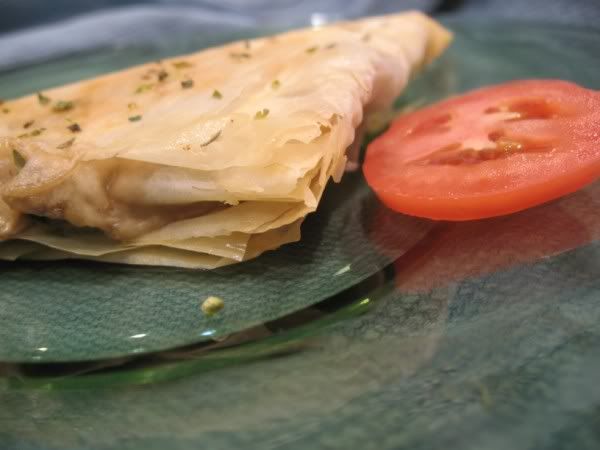 It's not terrible to work with if you do several things:
*
Have enough space
- make space for the phyllo itself plus space for working with it (I used a cutting board for the work surface)
*
Work quickly
- you don't have to rush things but the key is that the sheets don't dry out. They are super-thin and pretty delicate but not so delicate that they can't be worked with.
*
Don't Let Them Dry Out
-Keep a damp paper towel on top of the dough. Wet a paper towel and ring it out really, really well. If the towel is too wet, your layers can stick to the towel and break apart.
3/4-1 lb button mushrooms, chopped small
1 large shallot, minced (can use 1/4 regular white onion, minced)
large pinch dried rosemary
large pinch dried thyme
1-3 tsp soy sauce
about 1/2 c white wine (or vegetable broth)
2-3 Tbsp tofutti cream cheese
small piece of vegan cheese, grated (about 1/4 c. I used FYH Mozz.)
fresh cracked black pepper\
melted margarine, for "buttering"
Melt a little margarine/oil in a large, high-sided pan, and add shallots. Let sweat, but do not brown. Add mushrooms and cook until they release liquid.
Add rosemary,thyme, and soy sauce and continue to cook until almost all of the liquid is almost gone.
Toss in the wine and stir well, getting all the good bits from the pan. Add cream cheese and shredded cheese until smooth. Cream cheese should dissolve and mix in but it's not crucial that the shredded cheese melt.
Add in pepper and salt to taste (may not need salt). If a little bitter, add a small pinch of sugar and mix well.
Let cool, and wrap in Phyllo. I did *every* step in these pictures, so don't be intimidated. I am also left-handed so if you are right-handed, just put the filling on the other side and wrap to the right if it makes you comfortable.
Place sheet on surface.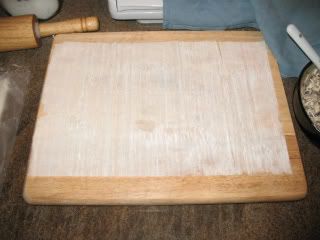 Butter.
If using 2 sheets (optional) place 2nd sheet directly on top of first. And butter.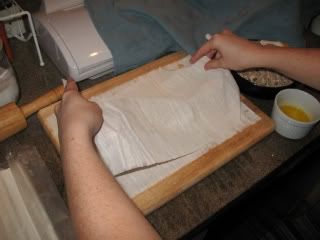 Fold sheet over lengthwise.
Butter it.
Filling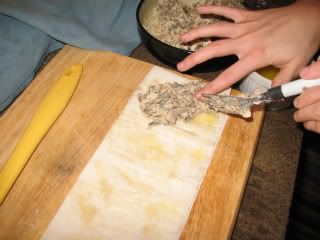 Folding it over and over and over
When you come to the end, just add more margarine and fold over.
Place seam side (last side that was open) down, and bake at 350 for about 20 minutes, flipping over at the 10-minute mark. They should be crispy on the outside and golden-colored.