This dish has quite a few components, but it's easy to do if you do half of it one day, and the rest the next. It has homemade polenta, dill, mushrooms, and asparagus. I really love the presentation.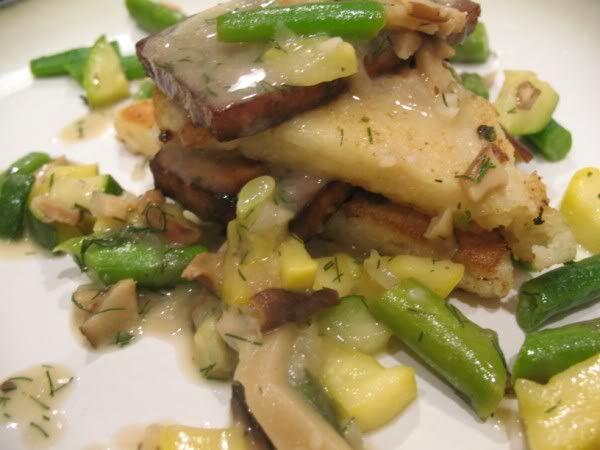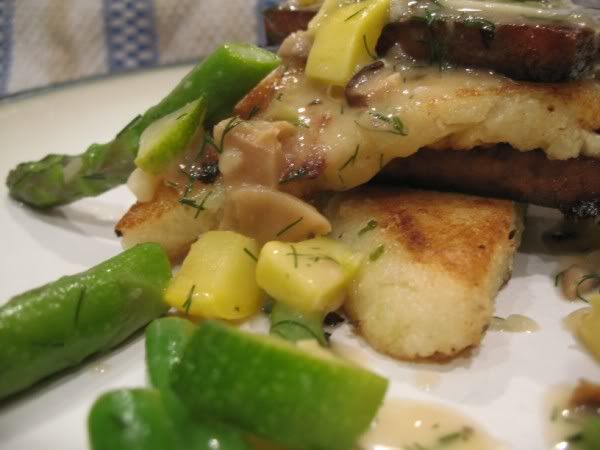 DAY BEFORE SERVING- Make Polenta, Bake Tofu, Soften Shiitakes
Polenta
1/4 c margarine, divided
1 small onion, minced
1 clove garlic, minced
3 3/4 c vegetable or vegan "chicken" broth
1 c yellow or white cornmeal (I used white)
2 Tb. soy creamer/soymilk
1 large or 2 small green onions, minced
1/4 tsp salt
1/4 tsp fresh cracked pepper
Line a 8x8 or 9x9 cake pan with saran wrap across the bottom both ways. (so all 4 sides of the pan have saran wrap overhanging.
Melt 1 Tb. margarine, and saute onion and garlic until tender. Stir in broth and bring to a boil.
Stir in corn meal, reduce heat and simmer 10 min., whisking well most of the time.
Stir in cream, green onion, salt, and pepper.
Pour into prepared pan and smooth the top. Cover with another piece of saran wrap.
Chill overnight or at least 8 hrs.
To cut the next day: Remove SOLID polenta block with the saran wrap overhang. Place on cutting board and cut into 4 quadrants. Next cut each of the 4 squares in half horizontally, so they are half of their thickness (about 1/4"). Can saute as squares, or cut each square into 2 triangles. (I used triangles)
Meanwhile..Italian Baked Tofu
1 1b/block tofu, pressed and cut into 8 slabs. (Can double if you wish)
2 Tbsp peanut or canola oil
1 Tbsp. tamari or soy sauce
Preheat oven to 350
Whisk oil and soy sauce very well. Place tofu in a 9x13 pan and pour oil/soy sauce on top, and flip over, coating tofu well on both sides.
Bake 1 hour, turning every 15 minutes. Cool and place in refrigerator, topping with 2 Tbsp. of your favorite Italian dressing, once again coating the tofu. Place in fridge.
Shiitakes
Heat a small pot of water to boiling, throw in dried shiitakes, and set aside for 20 minutes. Cool, drain well, and chop, making sure to remove any woody stem. Put in fridge. You can do this the day of as well if you'd like.
DAY OF- Make Mushroom-Vegetable Ragout, Saute Tofu and Saute Polenta and Tofu
While making this ragout, you want to heat a nonstick skillet to MED or MED HI and saute tofu slabs with the Italian dressing it was marinating in. No need for extra oil. Saute until lightly crisp on each side.
Empty and place on a baking sheet and keeping warm in the oven.
Drop 2 Tbsp. margarine and saute the cold polenta squares or triangles until browned on each side. Also keep warm in oven.
Vegetable-Mushroom Ragout
1 medium succhini, large diced
1 medium yellow squash, large diced
about 12 large asparagus spears
large handful fresh green beans, ends trimmed
1 c dried sliced shiitakes, soaking for 20 min in hot water, and chopped
1 large or 2 small button mushrooms, diced
1 shallot, minced
1 garlic, minced
scant 1 c vegetable/vegan "chicken" broth
1/2 c white wine
1/2 c (plus extra) soy cream
1/4 c chopped dill
salt and pepper to taste
1 Tbsp flour
Cut the woody 1/3 of the bottom of asparagus off. Cut each spear into about thirds, making the spear end bigger than the other 2-3 parts.
Cut green beans into about thirds
Boil a medium pot of water and cook asparagus, green beans, yellow squash, and zucchini for 2 minutes. (May need to do 2 batches). Submerge in an ice bath to stop cooking. Drain very, very well.
Melt a Tbsp. margarine and saute softened shiitake and button mushrooms. Remove and place in bowl with blanched vegetables.
Heat 1 more Tbsp. margarine and saute shallots and garlic until tender. Add wine and broth. Cook about 15 min. or until it is reduced to about 1 1/4 c.
Use pan you cooked polenta in, adding 1-2 Tbsp oil/margarine (depending on how much oil you have left in the pan) and add flour. Whisk until it forms a paste, and add some of the broth/wine mixture. Whisk again, while adding the rest of the broth and the dill. This is where you reduce until slightly thickened, and add more cream if you like. You do not want a gravy.
Add the vegetables back, and season as desired.
Stack: Polenta, Tofu, Polenta, Tofu, Vegetable-Mushroom Ragout, spooning in extra sauce.