I'll admit I watch Food Network. Unless it gets too gross, I like to see what's going on in the food world, and that excludes most vegetarians, but we can re-vamp recipes, so it's all good.
Today I saw Giada on
Everyday Italian
today use won ton wrappers for ravioli. If it's good enough for Food Network's Italian-born poster girl, it's good enough for me. I just didn't feel like making dough today. I'm not linking to her recipe because mine is nothing like it except the "butter". But trust me, it has won ton wrappers! I am using Dynasty brand. I really, really suggest caramelizing your onions. It adds a sweet, deep flavor to the dish. The filling is even better the next day, as proven by my eating it with a spoon.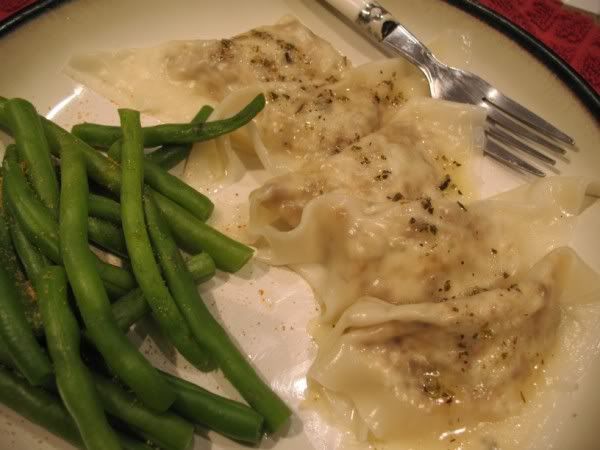 Recipe
1 package vegan won ton wrappers
1 pkg (14-16oz) drained tofu, pressed
several Tbsp Vegenaise
couple Tbsp Italian seasoning (enough to make filling speckled throughout)
3 small (one large) onion, chopped
1 Tofurkey Italian sausage, chopped small
salt
lots of freshly ground black pepper
First, start caramelizing your onions in some olive oil. Low heat for a long time. I keep mine on med-lo. This takes about an hour, so you can either skip this step and just saute them if you MUST, or make a lot so you can use them for other things.
Meanwhile-Place tofu in a food processor with Vegenaise, Italian seasoning, salt, and pepper and blend until smooth. Adjust seasonings to taste, but go easy at first, as you will be adding 2 other flavors. Empty into a bowl and place in the refrigerator.
When onions are done, pulse in food processor and add to tofu mixture. Saute sausage in pan on medium heat. When sauteed, pulse in food processor until pieces are small and uniform. Add to tofu mixture. Let chill until cold and then season to taste again.
Place about 2 tsp. chilled filling into each won ton wrapper and seal with plain water.
Heat water to boiling in a large high-sided pan. This gives the ravioli room, and it heats the water more quickly than a large pot. Place a few raviolis in the boiling water. They are done after a few minutes. The won tons will be pretty translucent.
Drain carefully.
To make Oregano "Butter"
Melt 1/4 c earth balance in a small pan
add 1 1/2 tsp. dried oregano
Cook the oregano for 1 min and add sea salt and fresh black pepper. Drizzle over plated ravioli.