For my 24th Birthday, I made myself a cake. It sounds kind of sad to make your own cake, but the one friend of mine who does any baking and lives in the same state is really super-pregnant and you can't ask a super-pregnant lady to schlep over and make you a cake. My boyfriend's culinary skills mostly extend to pasta, which is okay. So I made my own cake. The recipe is from the now defunct Delicious Choices. I topped it with VWAV Ganache (make 1/2 the recipe).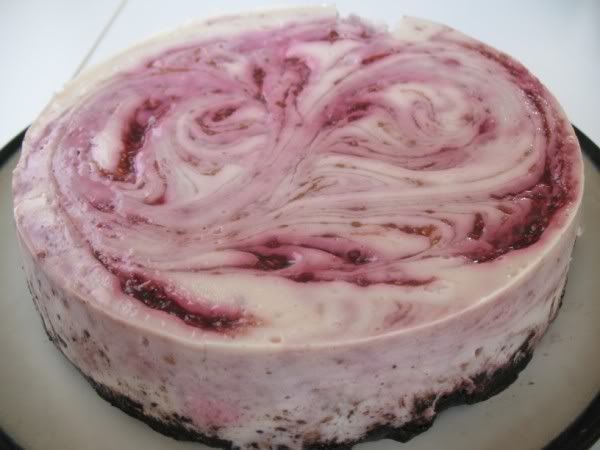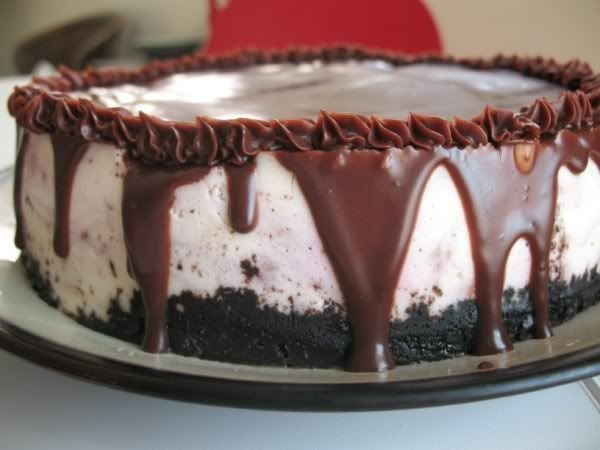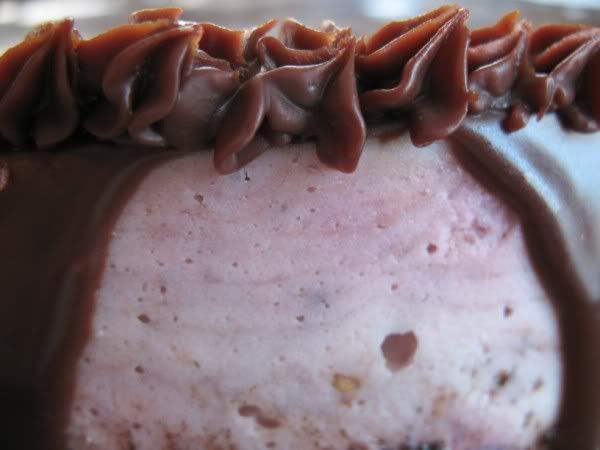 Raspberry Cheesecake Recipe
2- 8oz pkg Tofutti Better Than Cream Cheese
2 cups Sour Supreme Sour Cream
1 cup sugar
1 1/2 tsp vanilla
1/2 cup flour
1 1/2 Tbsp (1 Tbsp + 1 1/2 tsp) egg replacer powder dissolved in 1/2 cup water
1/2 c raspberry sauce (recipe to follow)
Comb. cream cheese, sour cream, and sugar until fluffy.
Add vanilla, flour, and egg replacer/water, beating well after each addition.
Add 1/4 c of the raspberry sauce and mix until swirled, not all the way mixed.
Pour into prepared 8" springform pan. Drop the other 1/4 c raspberry sauce in dollops all over the cake and run a knife around the cake so it's all swirled.
Set in 8" pan in a 10" springform pan.
Pour hot water into 10" pan until 1/2 of the 8" pan is submerged.
Place in preheated 300F oven and cook 1 1/2-2 hours until center is set and sides begin to pull away from pan.
Do not unmold cheesecake until completely chilled. Chill 10 hours or more.
Raspberry Sauce
1- 12 oz package frozen raspberries
1 c sugar
1 tbsp lemon juice
Place raspberries in a bowl with the sugar and mix well. Let thaw or microwave for a minute so they come to room temperature.
Heat raspberries/juice in a small saucepan on MED-LO until they come to a low boil.
Add lemon juice and heat a minute more, stirring well.
You can press through a sieve to get the seeds out, but I would only do this for garnish on top. I kept the seeds and used the sauce for the cheesecake. There will be some left over.
******************
"Chicken" Vegetable Casserole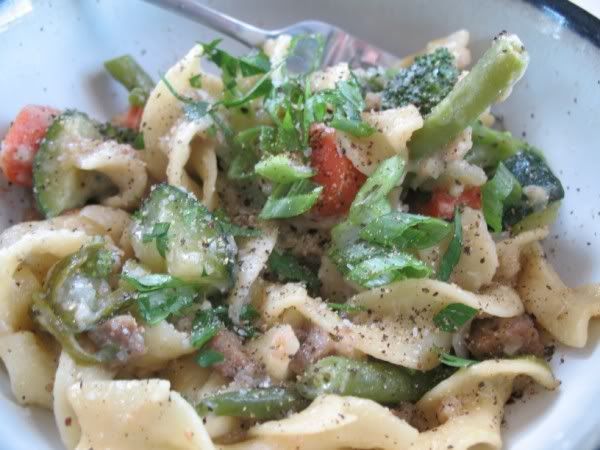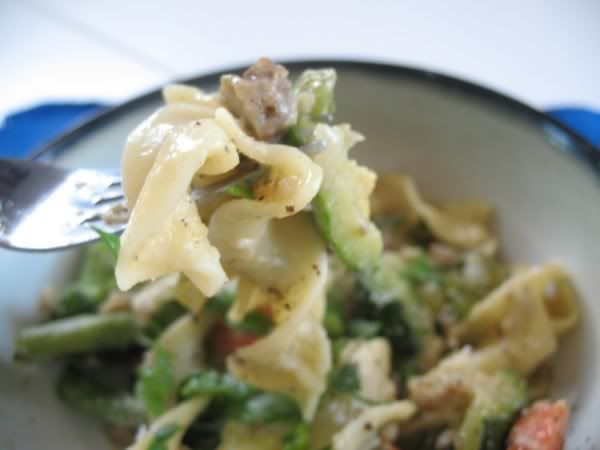 I hate the
word
"casserole". It makes me think of things that are mysterious and maybe too old being thrown in a pot as a last resort before you say "The hell with it!" and go to Taco Bell. It makes me think of people complaining about dinner. It makes me think of cheating by opening a can of something and baking it. Most casseroles don't even look that appetizing...(Even though growing up, I can't really think of one casserole that wasn't good!).. But darn it, I LIKE CASSEROLES.
This one is heavy on vegetables. Use what you have, I had a fair variety on hand.
This fills a 2 Qt casserole dish to the top.
Recipe
8oz eggless wide noodles, cooked and drained
1 med onion, chopped
3 small/1-2 large carrots, chopped into 1/4" or smaller coins
1-2 stalks celery, diced large (use the leaves, they are yummy)
1 small zucchini, chopped
1 c broccoli florets
1 hand full green beans, cut into bite-sized pieces
1 c seitan, chopped small (can use more, this is all I had)
"Cream of Chicken" soup, recipe below*. Although I got it to gravy consistency and it was more than a can of a certain popular brand would yield
1/2 c extra soy milk
green onion and parsley, chopped (for garnish)
Cook and drain eggless noodles and set aside. Keep water and drop in the broccoli and green beans until bright green and tender. Drain and throw in with pasta.
Saute onion, celery, and carrot until almost tender in a large saute pan. Add zucchini until tender. Add to pasta/vegetables.
Saute seitan until crisp, using seasoning of choice. Add to pasta/vegetables. MEANWHILE, make the "cream of chicken" sauce. Do not cook until very thick, just somewhat thick.
WHen sauce is done, mix everything well and put in a 2-qt baking dish. Bake at 350 degrees for about 25 min. Can broil the last couple minutes if you want the top crispy. Garnish with chopped parsley and green onion.
"Cream of Chicken" Soup
is from Chef Deborah on
Vegsource.com
.
Cream of "Chicken" Soup Concentrate
(use as a substitute for same)
2 cups soymilk or rice milk
2 Tbs cornstarch
4 tsps vegetarian "chicken" bouillon powder
1/4 tsp celery seed
1/2 tsp poultry seasoning
1/2 tsp sugar or other sweetener
1/4 cup "chicken"-style TVP (or plain TVP)
1/4 cup boiling water
Soak TVP in boiling water 15 minutes (then drain).
Put remaining ingredients in saucepan.
Cook over medium heat, stirring constantly, until
mixture begins to thicken.
Stir in rehydrated TVP.
Continue cooking, stirring constantly, until
mixture is very thick.
Use in casseroles, or thin with more 'milk to make
soup or gravy.