You know when you are looking around in some shops and you're like "man, I wish I could have that chocolate covered cheesecake". Well, that's what I was trying to recreate. Portions are reasonable instead of huge and it's so good!
The avocado pie is being re-worked on
veganexplosion
. Avocado pie might sound a bit unusual, but it's so good. It has a tart citrus flavor balanced with the creaminess of cream "cheese". You can taste the avocado, but I promise it's great! I had setting issues but her avocado pie made a great frozen pie. so it didn't really matter at all. I decided to cut the pieces and make chocolate covered pops! There aren't enough dunked food on sticks. Vegan, anyway.
Cut pie into pieces and place in pop sticks (I used Wilton brand. You can use wooden sticks or omit altogether. The sticks make it easier to cover, though!) Place back in freezer while you heat the chocolate.
This is a makeshift double broiler. I used about 1/2 bag of chocolate chips and 1 Tbsp. vegan creamer. Melt to a smooth even melted consistency.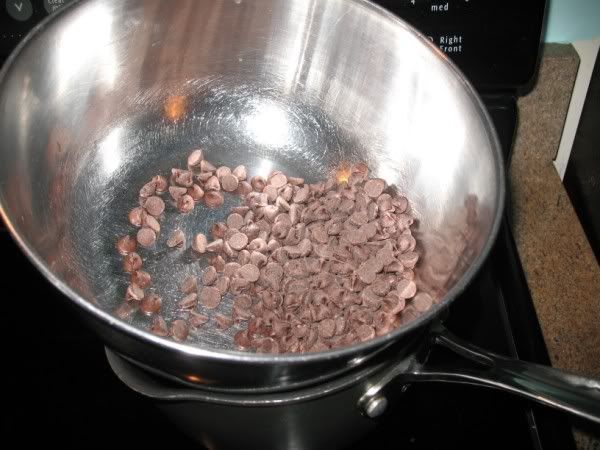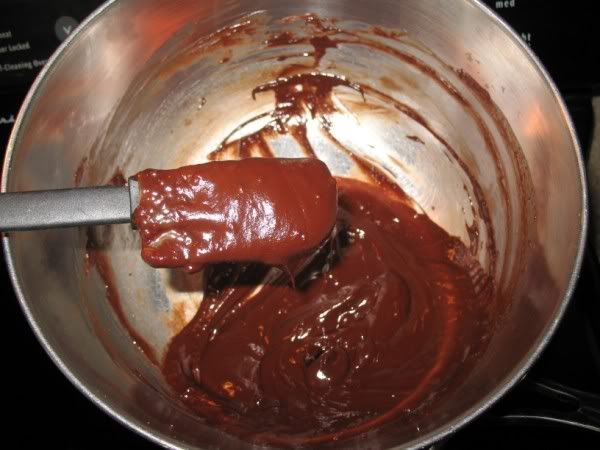 Dunk, spoon over, whatever you wish. I like leaving some green!
Place back in freezer until chocolate is totally set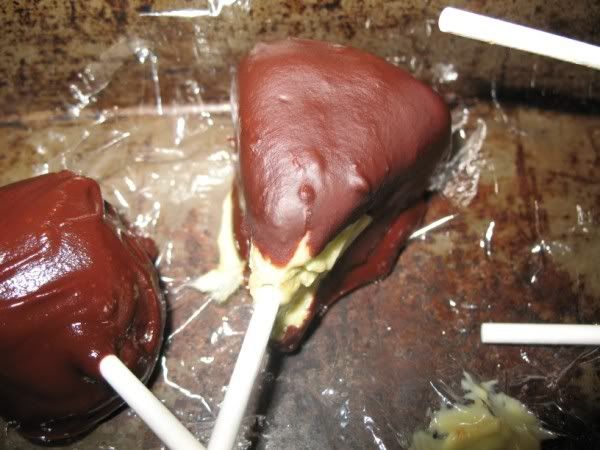 ENJOY!
SOUP!
Like most of my recipes, you use what you have. This is what I had on hand!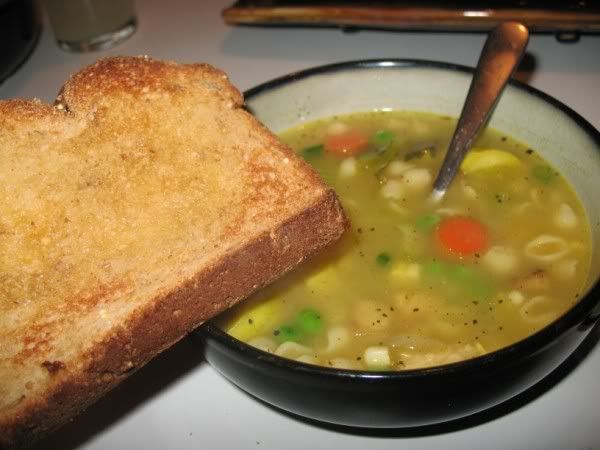 1 Package Chik'n Strips (Morningstar Farms)
1 med. onion, chopped
2 stalks celery, chopped
2 large or 4 small carrots, chopped
2 pieces yellow squash
2 ears of corn, cut
4 stalks green onion, chopped
8-10 cups vegetable of vegan "chicken" stock
poultry seasoning
handful of pasta
frozen peas.
Saute onion, carrot, and celery until softened and add squash and cook until squash is softened. Season with poultry seasoning and salt.
Meanwhile, prepare your broth and cook your pasta. (I use pasta water in the broth. It makes the soup a tad thicker). Also, saute chik'n strips and chop.
Add broth to cooked vegetables and add pasta. Add corn and green onions right before serving. Add a handful of frozen peas to each bowl and top with fresh ground pepper.
Simple and hearty.