I wanted a simple corn and black bean salad, but was out of black beans and so this came up! I think I like it better than a plain corn and bean salad. The Olive-Tofu Ricotta for the pasta is a very easy variation on the one I regularly make, and today I did a ravioli and tortellini.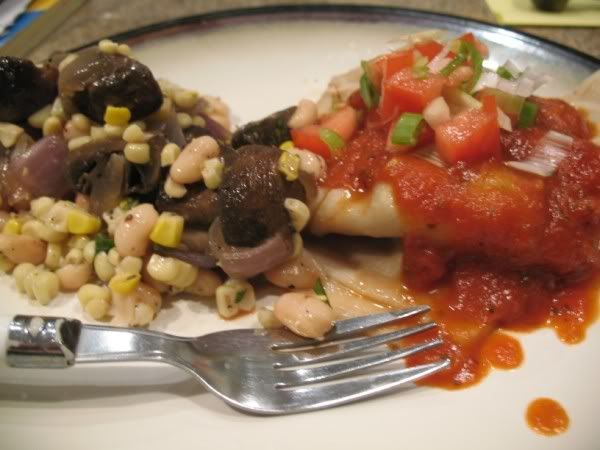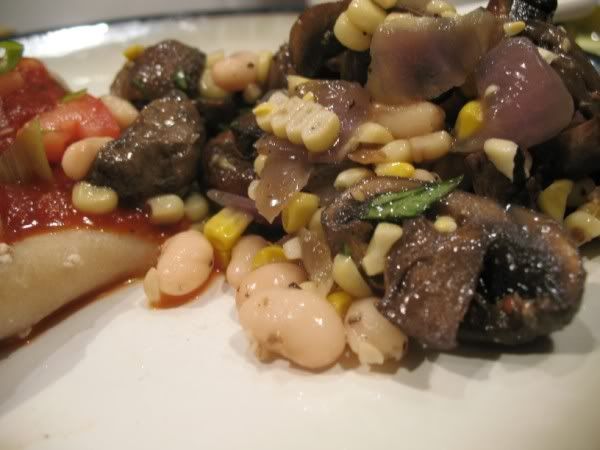 Italian Herb Roasted Corn-Bean Salad
1/2 large red onion, roughly chopped
3 ears of fresh corn, husk removed
1 average can white beans (northern, cannelini) drained and rinsed
about 3 Tbsp (more if desired) Italian dressing (I like Balsamic Vinaigrette)
10-15 small button mushrooms (can use other kinds, buttons are cheapest)
1 small sprig rosemary, chopped fine
4-5 large basil leaves, chopped fine
fresh ground pepper
pinch salt
extra salt and olive oil for baking
tamari/soy sauce for baking
Preheat oven to 350
Put corn and onion in a large baking pan and drizzle with olive oil and a pinch of salt/pepper
Put mushrooms in a separate smaller baking pan and add about 1/4 c or less tamari/soy sauce, and drizzle with olive oil.
Let mushrooms, corn, and onion bake for 1 hour.
Remove from oven, cool completely and chill completely.
Cut mushrooms in 1/2, and cut the corn kernels off the ears. Place onions, cut corn, and mushrooms in a bowl. Add remaining ingredients and chill further.
Serve with entree and enjoy!
Homemade pasta (Almost Whole Wheat)
This is pretty much entirely
Crystal's
dough recipe, I just substituted some of the flour for whole wheat pastry flour.
You can do tortellini or ravioli easily. If doing ravioli, be careful and make them small. The large ones break really easily. You can possibly do a fettuccine with a pasta roller; I haven't tried that yet.
Roller
Ricotta Ready To Go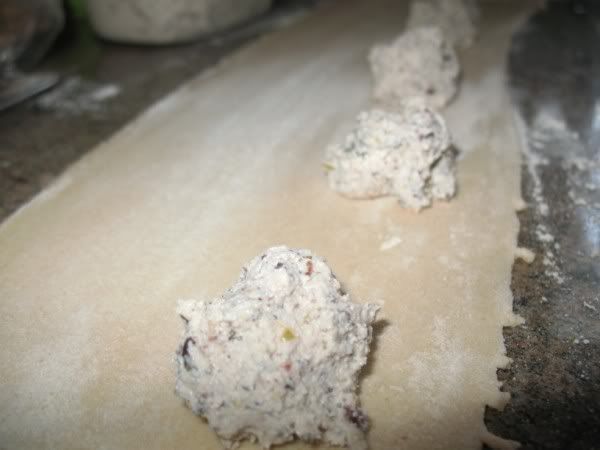 All of them, all of them
All of them, all of them all lined up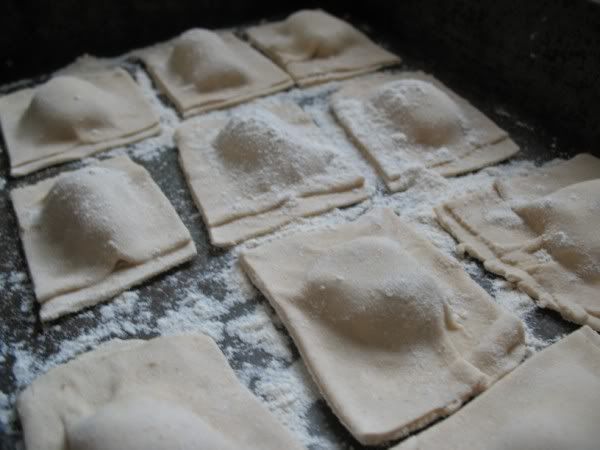 Ingredients:
2 c whole wheat pastry flour
1 c all-purpose flour
1/2 teaspoon Salt
1 1/2 teaspoons olive oil
2 Tbsp Ener-G Egg Replacer powder completely dissolved in 1/2 c water
6 Tbsp extra water
Sift flour and salt into a bowl. Mix all other ingredients together in a small bowl. Make a little hole in the center of the flour and pour in liquids. Bring together with a fork or your hands and knead until flour comes together.
Wrap in plastic and let sit for 1 hour. I refrigerated mine and it still came out fine.
To the rolling!
I rolled to a 5 on my pasta roller.
Dough will seem rough at first. You will have to roll on level 1 3-4 times.
After this, keep rolling on to 2, then 3, then 4, then 5.
Olive Ricotta
1 pack tofu (14-16 oz) drained and pressed
3-4 Tbsp vegan mayo (I use Vegenaise)
Very generous shake Italian seasoning (dried)
1-2 Tbsp. olive oil
1/2 tsp garlic powder (give or take)
fresh pepper
pinch sea/kosher salt
small handful green olives, chopped
small handful kalamata or black olives, chopped
Process all ingredients in food processor until smooth but not soupy. Tastes best when chilled for at least 1 hour.