Virginwithamemory over at
PPK
made these delicious sausages. I wish I could take credit! I did, however, make this creamed spinach recipe. I really enjoyed this dinner!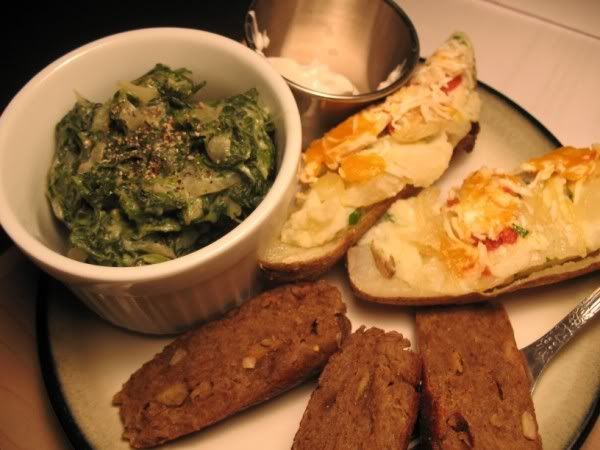 Creamed Spinach
This creamy spinach side dish doesn't have quite as much fat as a regular creamed spinach, but it is just as smooth and tasty. It gets its thickness from a quick roux and is pretty easy to pull off.
½ average onion, peeled and cut into thin rings
1 clove garlic, sliced very thin
1 Tbsp. flour
1 pkg. frozen spinach
¾ c soy milk, divided
1 Tbsp. vegan sour cream
Salt and pepper to taste
Margarine and olive oil
2-4 Tbsp. shredded vegan mozzarella (optional, I didn't use any)
Saute onion and garlic on medium heat with about 1 ½ tsp. Each olive oil and margarine. Cook until tender.** Here is where you multitask!
Add about 1 tsp more margarine, and add the flour. Stir well so the flour coats the onions and cooks until slightly golden.
Add ¼ c soymilk and stir well until thickened (this will happen quickly). If using vegan cheese, add here.
Add ¼ c more soy milk and stir in spinach.
Add sour cream and mix very well.
Add salt and pepper and the final ¼ c soy milk. Stir until combined.
**While onions are cooking, defrost spinach completely (I use microwave). Squeeze as much water out of spinach as possible. I mean it. Squeeze really, really hard. You will have a small tight ball. Separate spinach a bit and set aside.
Sausages Peeking from steamer, then exposed!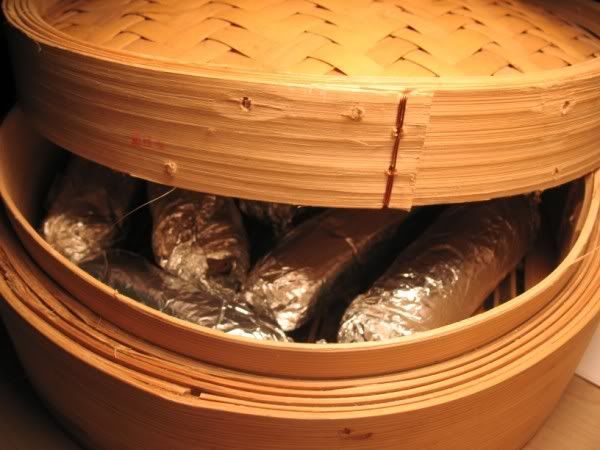 Apple-Sage Sausage
Courtesy of V.W.A.M.! (thanks for letting me share it!)
Recipe:
1 1/2 cups vital wheat gluten
1/4 cup nutritional yeast
1/2 tea. salt
1/4 tea. cloves
1/4 tea. allspice
2 1/2 tea. onion powder
1 tea. ginger
3 tea. sage
1/4 tea. cayenne
1/4 tea. black pepper
1/2 cup dried apples, chopped finely
1/2 cup cold mashed yukon gold potatoes
2 tea. marmite
3 Tb. olive oil
1/2 tea. liquid smoke
1 tea. crushed garlic from a jar
1 Tb. maple syrup
2/3 cup water
Combine dry ingredients in a bowl, mix it up.
Combine wet ingredients in a different bowl, mix it up.
Combine wet and dry ingredients and knead for a few minutes. Form into little sausage shapes and wrap them up in tin foil tightly. Steam for 1/2 an hour. Unwrap them, put some oil in a pan and fry them up a little.