This recipe is a variation of the Crosscut Stump Stew from
I Like You
, Amy Sedaris'
book
. Serves several hungry-men or hungry-ladies! Stretch that dollar with a salad!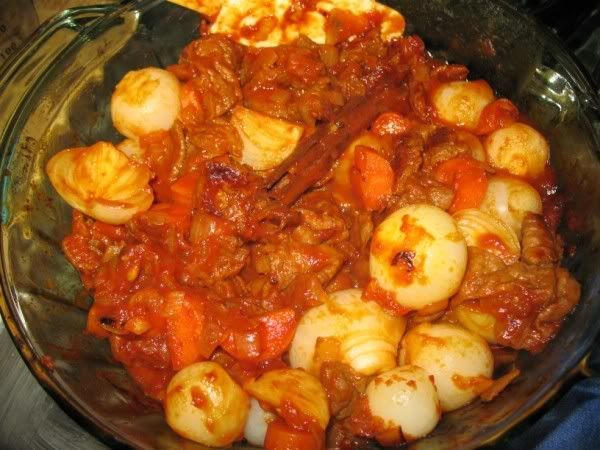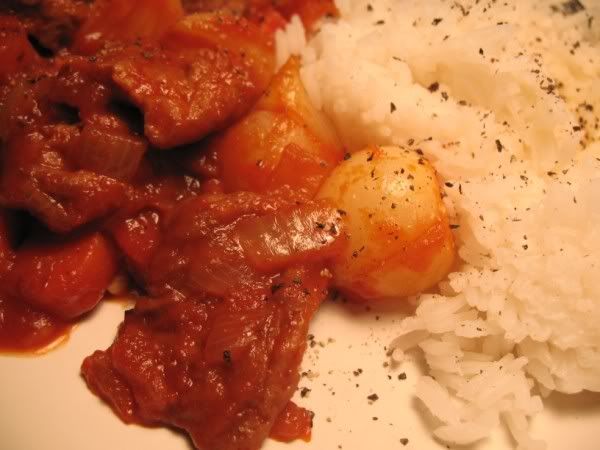 Lumber Jill Stew
Preheat oven to 375 degrees
3 c large-chopped (1-2 in pieces) beef-style seitan
2-3 Tb. olive oil/mix of olive oil and margarine
1 med onion, chopped
2 cloves garlic, chopped
1 carrot, cut into chunks
1 c tomato puree (or 1- 1 1/2c diced tomatoes if you don't have puree)
2 tsp. vegan Worcestershire
1 Tb. A-1 steak sauce
1/2 c red wine (sherry worked for me)
2 Tb. wine vinegar (I used red wine vinegar)
1-2 bay leaves
1 cinnamon stick
4 whole cloves*
1/2-1 Tb. sugar
salt and pepper to taste
3/4 lb pearl onions (instructions are for fresh, but use frozen if you can find them- they're already prepped for you)
Optional:
1/2 can diced potato** or 1 chopped cooked potato
Cook seitan until browned in the oil, adding the Worcestershire and A-1 at the last minute, just to coat. Remove and place in a casserole dish. Add onion, garlic, and carrot to the still-hot pot, adding oil if necessary. Cook until onions are tender.
Add tomato puree, wine, and vinegar to onion mixture and combine well. Pour over seitan.
Add the bay leaf, cloves, cinnamon stick, sugar, and salt and pepper.
Bake 45min-1 hour.
While this is baking, cut the top and bottom off the pearl onions and boil for about 2 min. Drain and cool. The skins will slide off. Add to stew after the 1 hour is up. Add potato is using.
Cook for 15-20 more minutes, stirring and adding a little water or tomato puree if too thick.
Serve with rice, potatoes, bread, cornbread, or whatever you'd like.
*I put the cloves in cheesecloth and tied with floss. If you want 4 whole cloves floating around in your hearty meal, be my guest. Cheesecloth is cheap and available at most supermarkets now. You should already have floss in your bathroom. If you don't, we need to talk. Remove the cheesecloth sachet and the cinnamon stick before serving.
**I don't usually suggest canned vegetables like potatoes (since potatoes are cheap to cook yourself). Mostly I stick to canned tomato sauces (cheaper for me than homemade) and canned beans (time-saver), but since this is a stew, sometimes I like the canned potatoes. It reminds me of camping as a kid.
Supa-Sandwich
2 of my animal rights friends made a wicked sandwich that I tried to copy. Let me tell you- it was delicious! Here it is:
Labeled (as layered, pretty much)
Bread
Creole Mustard or Brown spicy mustard
Lots of Tofurkey
Lots of Vegenaise
Lettuce (I do ribbons of romaine)
Tomato
Pepperoncinis (cut into rings)
Black and green olives
Salt and Pepper