This day is for you, mamas! Thank you for being there for us!
Birth moms, adoptive moms, step-moms, moms-in-law, moms-to-be. You are all lovely.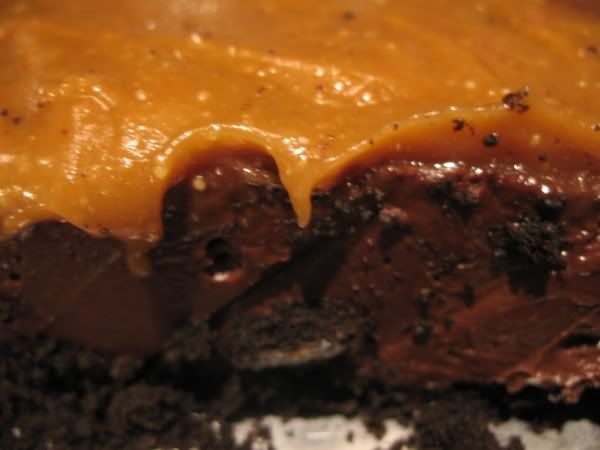 This is a very rich chocolate and peanut butter dessert. (It is also very easy!)
Since my mother would inject chocolate if she could, I made it for her. I think she is to blame for my sweet *teeth*!
The caramel recipe is from Isa Moskowitz over at the
PPK
Chocolate-Peanut Butter Pie with Peanut Butter Caramel
1 package silken tofu (like Mori-Nu, in the non-refrigerated pack)
1 Tbsp maple syrup
3-4 Tbsp peanut butter (any kind you like)
1- 12oz bag chocolate chips (check for milk ingredients)
1 pre-made or home-made crumb pie crust (like Oreo, Shortbread, or Graham Cracker)
For the caramel:
1/3 c peanut butter
3 Tbsp maple syrup
2 Tbsp brown rice syrup
To prepare the pie:
Blend tofu, syrup, and peanut butter in a blender until completely smooth.
Melt chocolate chips over a double broiler and add to blender and blend entire mixture again, scraping the sides of the blender if necessary. Pour into prepared crust.
Chill until completely firm then make the caramel:
Stir all the caramel ingredients together in a small sauce pan. Gently heat everything over low heat, stirring constantly with a fork, just until smooth and heated through. It should fall from your fork in ribbons. If it seems stiff, turn the heat off immediately and add a little extra brown rice syrup, until it's fluid again.
Spread caramel over the pie and chill again. Makes a decent amount of serving because it is very rich. If you or your mom like chocolate/peanut butter as a combo, try this sometime!