Both of these are freestyle so please forgive my measurements if mentioned.
I was watching
Fried Green Tomatoes
the other day, and decided to make some since I've never had them. I looked online and it appeared to be a basic dry-wet-dry recipe so that's what I did. I changed it up a bit by doing panko instead of bread crumbs or more flour.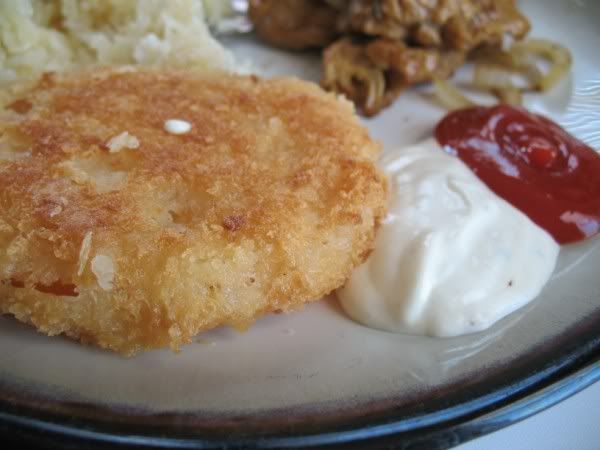 Fried Green Tomatoes
We bought green tomatoes at a vegetable stand we have here. You have to be careful to not slice them too thin. You want something to grab on to and eat, so slice pretty thick.
Dry
: All Purpose Flour seasoned with Seasoned Salt, pepper, and whatever you like.
Wet
: Soy Milk with a splash vinegar added. Let it sit a few minutes and curdle. Stir it with your fork. It should be really thick. This acts as buttermilk.
Dry
: Panko bread crumbs. They are widely available now, not just in Asian markets. Though you'll get a better deal at the Asian Market. If you don't have panko, just use the seasoned flour again.
Use one hand for wet, the other for dry. It makes it a lot easier.
Dip the tomato in the flour, then the "buttermilk", then the panko and fry in vegetable/canola oil in a cast iron skillet until light brown on each side.
I served this with ketchup and a horseradish sauce (just freestyled a little sour cream, mayo, horseradish, dijon, salt, and pepper).
Greek Tofu Scramble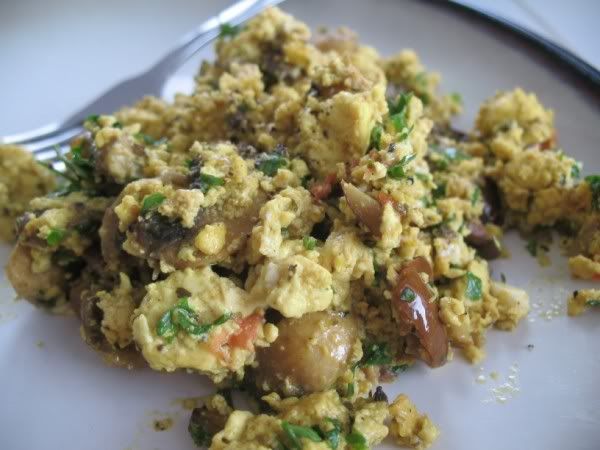 1 Package (14-16oz) extra firm tofu, pressed
small handful kalamata olives, pitted and chopped
3-4 green olives, pitted and chopped
1/2 small tomato, seeded and chopped
handful of mushroom, chopped roughly
Cavender's Seasoning
, to taste
1/4 c or so shredded Follow Your Heart Mozzarella (totally optional)
few good pinches nutritional yeast
Fresh pepper
turmeric for color
fresh parsley if you have it
Drain and press tofu as mentioned. In a large skillet, heat a little oil/margarine and cook the mushrooms until softened.
Add tofu, squeezing it through your fingers. Some large chunks are fine.
Add olives, tomato, and optional cheese with the tofu and cook a few minutes.
Add seasonings and nutritional yeast and cook until nutritional yeast is mixed in well.
Finish with parsley.