I really love pot pie. This one is mostly homemade. I really like using canned potatoes because they keep their firm texture without becoming mushy. Cook your own and feel free to make your own pie crust. I am using premade for time.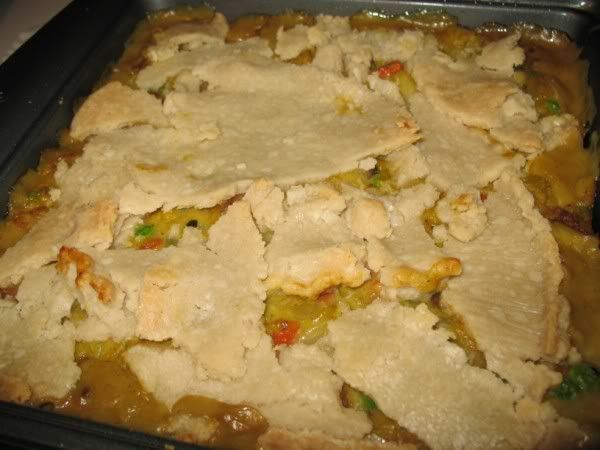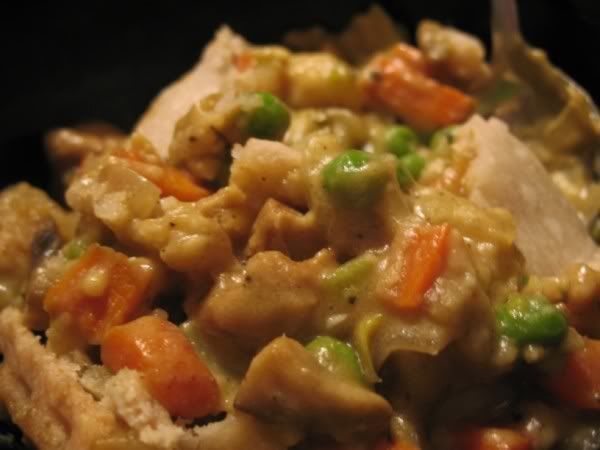 "Turkey" Pot Pie
2 medium carrots, chopped into cubes
3 mushrooms, chopped
1 medium onion, chopped
2-3 small stalks celery, chopped
2 cloves garlic, minced
1/2 c frozen peas
1 (15oz) can potatoes, drained and cubed
2-2 1/2 c chopped "chicken" or "turkey" seitan- See bottom for alternatives
Cavender's seasoning
pinch dried thyme, crushed with your fingers
poultry seasoning (there's no poultry in it!)
salt and pepper to taste
Gravy
1/4 c oil
1/2 c flour
1/4 c nutritional yest
2-2 1/2 c broth
1/2 c soy milk OR extra broth
*Storebought or homemade pie crust OR vegan puff pastry, thawed according to directions (watch for lard if buying. A lot of store brands are cheap and made with vegetable oil)
Method:
Preheat oven to 350 degrees
*While cooking vegetables, after oven is preheated, you can loosen the crust from the tin by putting in the oven for 5 minutes.
Saute carrots until slightly tender.
Add mushrooms, celery, onion, and garlic until onion is tender, adding poultry seasoning, thyme and cavender's to taste.
Place mixture in bowl and add peas and potatoes.
Saute seitan until crispy, adding seitan broth or other broth for flavor. Season to taste.
Add to vegetable mixture in bowl.
Gravy:
Heat oil in the pan you cooked the seitan in and add flour, and nutritional yeast. Stir well until flour is toasty and fragrant. Do not burn. It will not be a roux, but crumbly and coarse. Using the same pan as the seitan will pick up all the nice flavorful bits the seitan left behind.
Slowly add broth. It will seize into a thick mixture but keep whisking and adding liquid slowly. Add soymilk after broth for a creamier gravy. It's up to you.
Add gravy mixture to seitan and vegetable mixture and mix well. Place in a sprayed nonstick 9x9 2"deep pan and top with puff pastry or pie crust**. I did it in pieces.
For puff pastry, follow directions as follows, but carefully unfold the puff pastry (it will be in thirds) and place on top. Do not mess too much with it or it will be tough.
Cook for about 20 minutes, until crust is golden. May need to adjust for puff pastry.
********
Seitan Alternatives
- Be sure to properly season.
-The cheapest one is probably tofu. Try freezing tofu then thawing and squeezing out the extra moisture. It will be like a sponge in appearance and ability to hold water, and it will be chewy when cooked.
- Tempeh- you can marinate some tempeh and saute
-Soy protein chunks/TVP- reconstitute and saute
-Veggie sausage crumbles or whole sausage pieces
-Bean patties or loose beans
-Squash such as butternut squash, in chunks