Yum! I found this tasty, cheap "pork" gluten at my local Asian market. So far we've done hot BBQ pork/cucumber sushi. It's delicious grilled with sauce. So I decided to make wonton soup. I wanted the soup to be simple and the dumplings to be the star. Have I said a million times that I love dumplings of all sorts? You can also make these dumplings (do a simple triangle) and pan-steam them. Yum!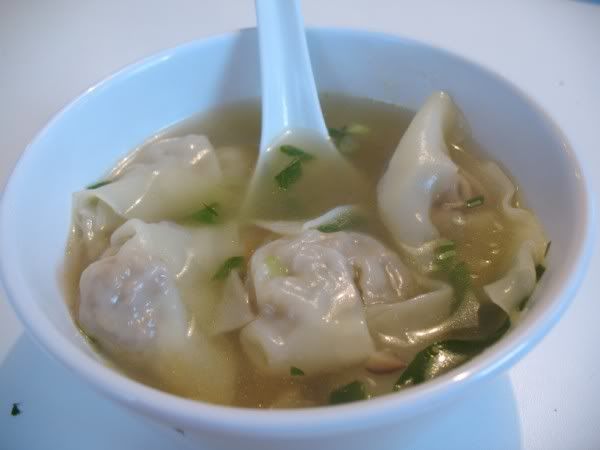 "Pork" Wonton Soup
1 can Wu-Chung fried pork, drained and pulsed to crumbles in food processor
2 cups small-chopped green cabbage
2 cloves garlic
1 small dried chili pepper, chopped very tiny
small piece ginger, minced (1 tsp)
2 green onions, chopped
2-3 dried shiitake mushrooms
1 pkg vegan wonton wrappers
1 tsp sesame oil
2 tsp soy sauce
6 cups water
6 tsp/2 Tbsp Better Than Bouillon vegan "chicken" broth, or vegetable broth.
-Soak mushrooms in hot water for 20 min. If using fresh, saute and set aside. Chop small. Can use water in broth for soup if desired.
-Heat a large skillet and add 1 tsp peanut/other neutral oil. Fry garlic, ginger, and chili pepper for about 30-45 seconds.
Do not burn garlic because burned garlic will make everything bitter and it can't be fixed
.
-Add "pork", soy sauce, and sesame oil and saute about 2-3 minutes, until mixture is not too wet.
-Add cabbage and a small handful of chopped green onions. Cook until cabbage is tender and wilted. Cool to room temperature or colder before making dumplings.
-Shape dumplings as desired, using 1/2-1 tsp filling per wonton. Do not overstuff.
Here
is a great demonstration with 3 different folds, from Cmtoy on Youtube. Video posted with permission.
-Heat water to dissolve bouillon; boil and add dumplings. Add mushrooms and rest of green onion. Cook about 2 min or until dumplings are not starchy-looking, and wrappers have tightened around filling. Finish with sesame oil and extra soy sauce to taste in the broth.