I made these nachos from those little tortilla bowls, but any tortilla chip will do. Added this easy,
delicious bean dip from Veggie Kitchen
(recipe below), nacho sauce recipe from Uncheese Cookbook and changed it a little. You can use any nacho saucy-type recipe you'd like. I added sliced black olives and roasted red pepper, and piped on some sour cream. Topped off with the thiiiiinnest slivers of raw jalapeno w/o the seeds.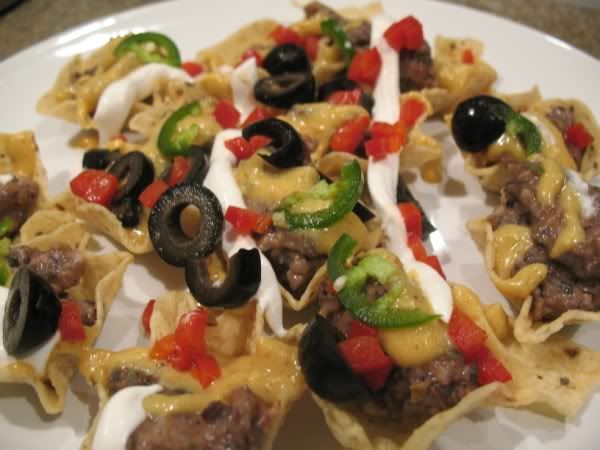 Frijoles Negros/Black Bean Dip/Sandwich Spread
-Reprinted with author's permission:
Black Bean Dip/Sandwich Spread
3 cups cooked black beans (2 cans)
1/2 lime, juiced
1/2 jalapeno pepper, seeded & minced (more to taste)
2 small shallots (2-3 tbs total)
1/4 cup salsa
1 tbs Vegenaise
1/2 tsp cumin
1 tsp chili powder
dash cayenne pepper (or to taste)
salt to taste

Partially mash the beans so that they somewhat clump, but still have many whole beans. Stir the remaining ingredients together with the beans and season to taste with salt. The flavors, especially the shallot and jalapeno will mellow and blend with time. The were best eaten the next day, but let them sit, for at least an hour.(uh, that's assuming you can wait one hour)
I also have discovered that sometimes cantaloupes (actually musk melons) aren't as sweet as you'd like, or if they go a little soft but aren't bad...they make really good smoothies! They lend almost a creamy texture to the smoothie. I like to put cantaloupe, a couple ice cubes, water or juice, and frozen or fresh fruit.
And DUH, I never thought of it until I saw it on TV, but use a piping bag when making ravioli. Why did I use a spoon and a finger for so long!?