There are fewer foods that I like more than a good savory pot pie. It's a casserole in a bowl with a crust! Come on! I would have to say that I'd choose pot pie over regular.
So when I saw
Throwdown with Bobby Flay
(don't judge me), it inspired me to cook another one, even though it's pretty warm here in Florida right now. I changed the
Casserole Queens' Recipe
quite a bit and used a
basic pie crust recipe
(Flour, Crisco, salt, ice water) instead of Puff Pastry, but Pepperidge Farm puff pastry is vegan so you can use that. I am no pie crust queen and don't have much in the way of patience so I just put it on top in pieces. Just do it and call it "rustic" and people won't know you suck at pie crust rolling. Please don't be intimidated by the recipe list- I just spaced it out so it's easier to read/use.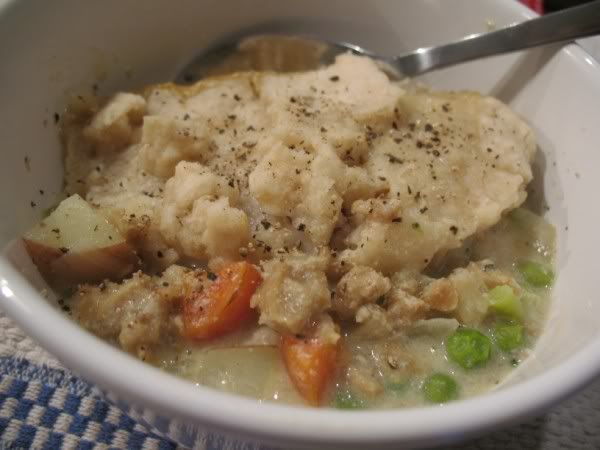 Pot Pie 2.0
2 carrots, chopped (don't peel)
2 small red potatoes, diced
1 c chopped broccoli
2 tablespoons margarine/olive oil
2 c Turkey or Chicken flavor Seitan, chopped
1 small-med onion, chopped
1 stalk celery, chopped
2 tablespoons all-purpose flour
3/4 teaspoon salt
1/2 teaspoon dried tarragon, crushed
1/4 tsp (or less) poultry seasoning
generous pinch fresh black pepper
2 cups soy milk
1 cup soy cream (can use some or all soy milk to replace for less fat)
1/3 cup beer or wine
1-1 1/2 cups frozen peas
Directions
-Thaw puff pastry according to package directions if using. Make pie dough if using dough.
-Preheat oven to 425 degrees F.
-Blanch carrots and broccoli, and boil potatoes until potatoes are fully cooked. Do it in batches if necessary. Drain and set aside.
-Meanwhile, in a large skillet melt margarine over medium-high heat. Add seitan and cook for several minutes. At this point you can chop small like I did, or leave in chunks. Stir frequently. Reduce heat to MED and add celery and onion and cook until tender.
-Stir in flour, salt, tarragon, poultry seasoning and black pepper until flour is evenly coating other ingredients, about 1 minute.
-Add soy milk/cream. Cook and stir until thickened and barely bubbling. Will still be soupy. Stir in beer/wine, peas, carrots, broccoli, and potatoes. Stir well.
-Transfer the hot seitan/vegetable mixture to a 1 1/2-quart casserole.
-Place pastry/dough over the mixture in casserole dish. Bake in the preheated oven for 30 to 45 minutes.
Bonus: Fun Fortune!