I made the delicious
Tempeh Reubens
last night, and they reminded me of Big Macs from long ago because of the dressing. So I decided to make a vegan, healthier version of Big Mac. We had baked fries and left-over Deli Macaroni Salad from
VCON
. I really enjoyed them! There's no middle bun, but it doesn't bother me. Also, I used one patty and cut it in half, but you can use two patties if you are pretty hungry.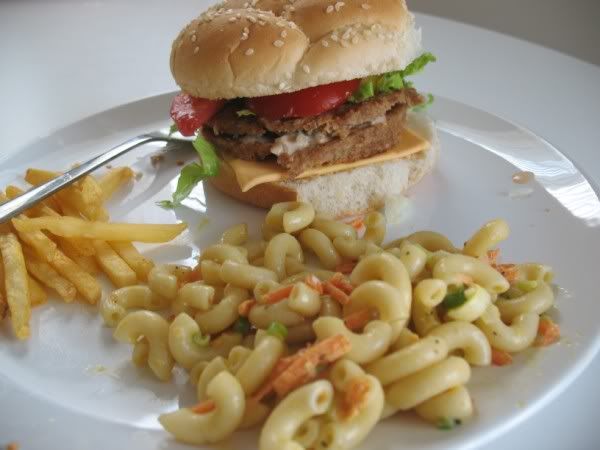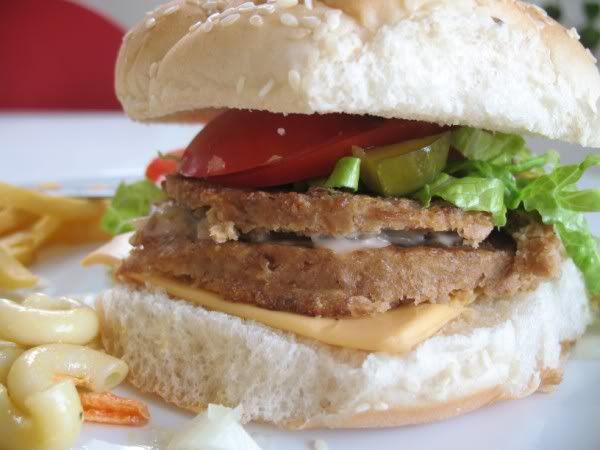 You Need (per Fancy Mac)
1 (or 2) of your favorite veggie burger
lettuce
tomato (opt. there is no tomato on a Big Mac as far as I know)
minced white ontion
pickles
VWAV tempeh reuben dressing-Below! (I reduce the lemon juice)
lettuce (I used romaine, chiffonade)
1 slices vegan cheese (I like tofutti cheddar slices)
Saute veggie burger(s) in a pan with some oil. If using 1 burger, cool a little and cut in half so you have 2 patties.
Stack it!
Botton bun- cheese- dressing- onion- lettuce- burger-pickle-top bun
Not sure of the exact order as the real thing but I liked it!
Vwav Tempeh Reuben Dressing
(Printed with permission)
1/3 c vegenaise
2 Tbsp. ketchup
juice of 1 lemon
1 Tbsp. minced onion
1 Tbsp. capers
2 Tbsp. sweet pickle relish
pinch cayenne
Mix ingredients and chill until ready to use.