This is a strong chocolate martini. It makes 3-4 drinks. You can thin it out with more soy milk or ice.
By "shot glasses" I mean the
small
glass shot glasses that are sold as a pack of 4. Each= 3 Tbsp/ 1.5 oz at the brim.
4 shot glasses vodka (nothing cheaper than Smirnoff or you will be sorry tomorrow)
2 shot glass Kahlua
1 shot glass chocolate syrup
3 shot glasses soy milk
8 ice cubes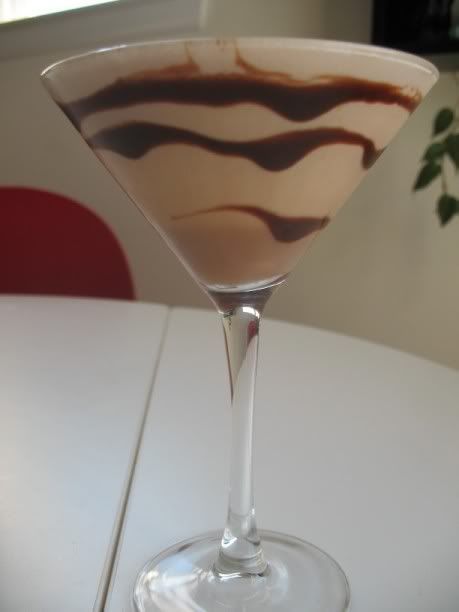 Blend in a blender on High and serve. For service as shown, hold a martini glass and rotate while gently squeezing chocolate syrup so it comes out in a thin line. You can also put syrup in a saucer, then dip the rim of the glass in the syrup then in cocoa powder for maximum chocolate flavor.
Disclaimer:
Don't go crazy. PLEASE get a designated driver if you drink! I don't want you hurting anyone. This is for people who are of legal drinking age.