BLT!
This bacon is by no means mine but I wanted to share. It's from
Dave over at PDX Cooking Club
! Thanks for the recipe, Dave.
It was fun to make. The red spot is red food coloring. Add it to the liquids if you want to add it, instead of adding it after you knead it like I did. The thinner, the better. It was really good fried up and served with pancakes. Here I did a simple pasta salad.
Pressing
Slicing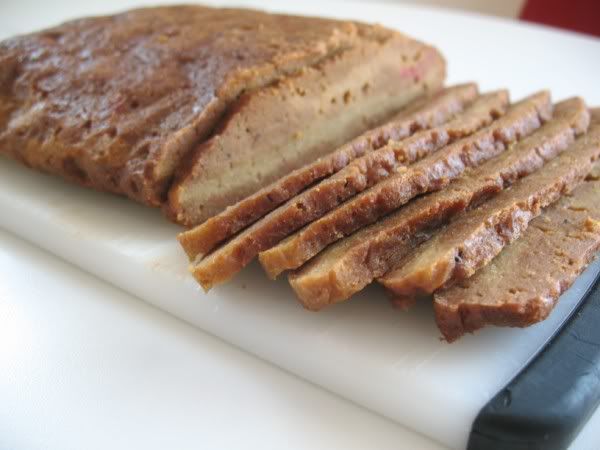 BLT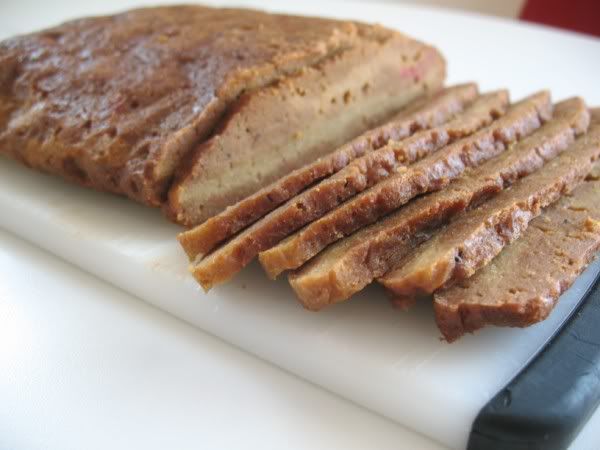 Gnocchi (no pic, sorry).
This recipe is a veganized version of another one I found, but it has been altered a bit. I don't have a gnocchi roller so I just use a fork. The easy part about this is the instant potatoes. Use it all the first day. If you refrigerate and boil the next day, they get soft.
2/3 c instant potatoes
2/3 c boiling water
1 1/2 tsp Ener-G egg replacer + 2 Tbsp warm water
1 drizzle (about 1 tsp) olive oil
1 tsp salt
1- 1 1/2 c flour
Add boiling water to potatoes, and mixm making sure to well incorporate. If they are too dry, just add 1 Tbsp extra water. Sprinkle salt over potatoes.
In a separate bowl, whisk the 2 Tbsp water, egg replacer powder. Then add the oil and mix again.
Add wet mixture to potatoes and slowly and gently add flour. I used just over 1 c. You want the mixture to be roll-able but the more you work it and the more flour you add, the denser the pasta will be. Go slowly and sprinkle on. Also use a floured cutting board when rolling.
Roll into a snake 1/2-3/4" wide and cut small pieces. Roll on a fork (or just leave in dumpling shape) and boil for a few minutes, until gnocchi float to the top.