This smaller-pan lasagna includes butternut squash, chicken-style seitan, mushrooms and creamy ricotta, but don't let that scare you. You can make all the components while the others are cooking, and clean up while it's in the oven.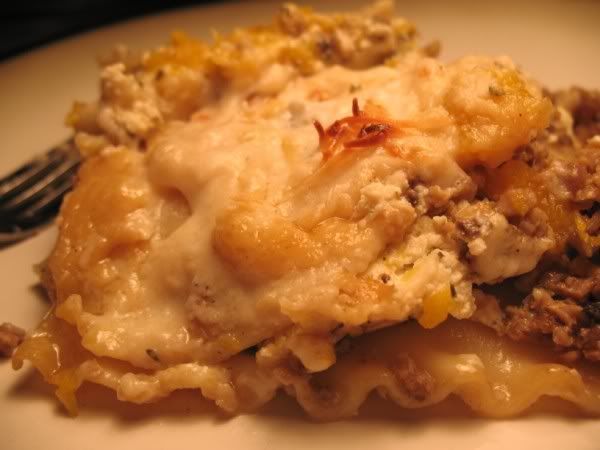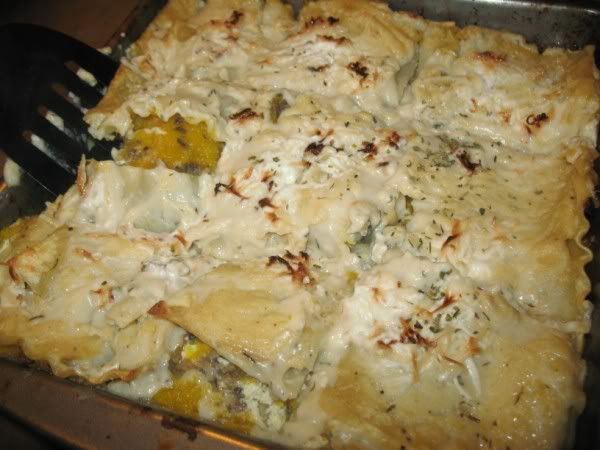 8 average lasagna noodles
1 c chopped chicken-style seitan
8-9 regular button mushrooms, sliced
1 recipe tofu ricotta*
1 1/2 c mashed butternut squash**
2 c béchamel sauce***
1/3- 1/2 shredded vegan cheese, such as Follow Your Heart
Make the ricotta first- you can use any type you like. My general recipe is
1 lb firm tofu, pressed, then mixed in food processor with olive oil, vegan mayo, Italian seasoning, salt, pepper, garlic powder, onion powder. Chill in refrigerator until ready to use.
Next, make the butternut squash:
Peel and cube, either baking or boiling until tender. Drain very, very well and mash with salt, pepper, and a touch margarine.
While the butternut squash is cooking, saute the seitan and the mushrooms until mushrooms release the liquid and the liquid evaporates. You can season this mixture with a little of the seitan broth. Cool slightly and pulse in food processor. Small chunks are okay.
While squash is draining well, cook lasagna noodles and make bechemel***. I like
Bryanna Clark Grogan's
. When noodles are done, drain and rinse in cool water, so you can handle the noodles
Layering:
Spray a 9"x9" pan with nonstick cooking spray.
Layer:
Spread 1/3 of the bechemel sauce
3 noodles, cutting off excess and setting the small piece aside.
1/2 of the ricotta
1/2 of the mushroom-seitan mixture
1/2 of the squash,
then 3 noodles again (cutting off excess).
Layer again in the same fashion, and cover with the 2 full noodles, and the noodle remnants. Cover with remaining sauce and sprinkle with the cheese.
Bake at 350 degrees 20-30 min, broiling the last couple minutes to melt the cheese. Allow to cool 5-10 minutes and serve with a vegetable.