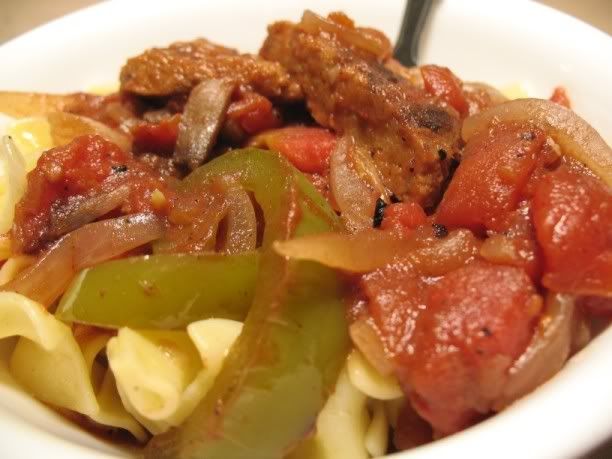 According to Wikipedia, "cacciatore" means "hunter" in Italian. Whether or not this is true, here's a hunt-free and cruelty-free recipe. This came out really well! Soft, warm tomatoes with tender vegetables and "meaty" sietan. I suggest at least starting this off in a skillet. It gives the dish a smoky taste and you get all the flavour from the seitan and vegetables. My skillet isn't big enough (I found out halfway through) so I transferred it to a large stockpot.
I used Joanna's seitan. Here's her food blog (drool)
http://yellowroserecipes.com/
I can't post her recipe w/o permission but she has a book coming out, so use regular seitan, homemade or storebought. You could substitute Morningstar Chik'n strips or another chik'n substitute. Marinated tofu or tempeh could probably be used.
I modified from this vegcooking.com recipe
http://vegcooking.com/recipeshow.asp?RequestID=382&Search=chicken+parmesan
Here's Mine-
12 oz. chosen protein (see above)
2 Tbsp. olive oil, divided
4 cloves garlic, crushed
1 green bell pepper, cored and cut into strips
1 white/yellow onion, cut into strips
1-2 cups fresh button mushrooms, sliced into ¼-inch pieces
1 28-oz. can chopped tomatoes OR 2- 14-15oz. can diced tomatoes
1 cup red wine (a little more if desired. I used Burgundy)
2 cloves roasted garlic (optional)
1 lb. short, flat noodles (try Mueller's dumpling noodles)
• Protein- cut or tear it into large chunks.
• In a large skillet, heat 1 Tbsp. of the olive oil over medium heat. Add the faux chicken, sauté until brown, move to a plate lined with paper towels, and set aside.
• In the same skillet, heat the remaining 1 Tbsp. of olive oil over medium heat. Add the garlic, green pepper, and onion and sauté for 2 minutes. Add the mushrooms and continue cooking until the vegetables are soft. Add the chopped tomatoes and red wine and simmer, covered, for 30 minutes.
• Remove the lid, add the faux chicken and roasted garlic, and continue cooking for 10 to 15 minutes or until the liquid is reduced and the sauce is slightly thickened.
• Meanwhile, cook the noodles according to the directions on the package. Drain.
• Serve the cacciatore over the hot noodles.
Makes 6 servings.