We had a little get-together. We watched the De La Hoya/Mayweather fight, which I don't really care about (although De La Hoya is the prettiest boxer ever). We had about 10 people over and the food was devoured! Almost all omni and they even ate the raw veggies for the bean dip (which surprised me). Chips and salsa were also there but not pictured.
Pics first, then recipes!
Bean Dip!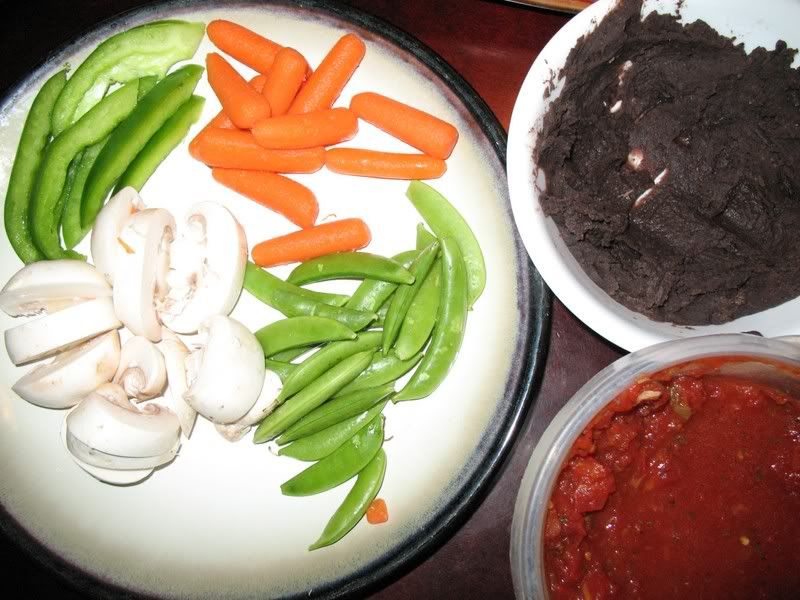 Rollos de Primavera
(because I do not know how to say "spring rolls" in Spanish)
Not in accordance with Cinco De Mayo but they were great! Served with tamari and duck sauce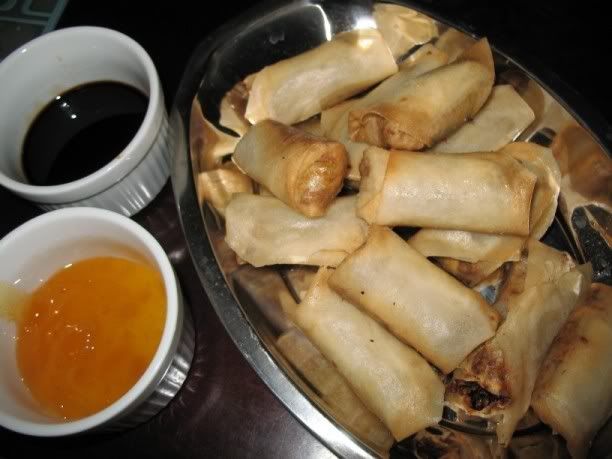 Margarita Cupcakes!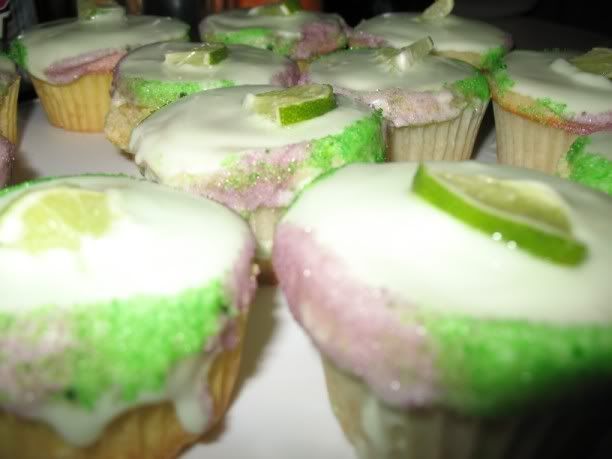 I hate hate hate tequila but these cupcakes were freaking awesome. They got a lot of ooh's and ahh's. I rolled them in leftover Mardi Gras sugar because I don't have multicoloured sugar. Recipe is from Vegan Cupcakes Take Over The World. (http://search.barnesandnoble.com/booksearch/isbnInquiry.asp?z=y&EAN=9781569242735&itm=1) Thanks Becky for helping with the frosting. Easy to make and very impressive.
Bean Dip
Recipe:
*2 cans black beans, drained but not rinsed (or about 4 C. cooked)
*1 tsp (or a little more) Better than Bullion Vegan No Chicken
(
http://www.superiortouch.com/btb.htm
"
)
*1 cup water
*generous sprinkling garlic powder (or fresh garlic)
*generous sprinkling onion powder
*tiny bit of oil to coat pan
*desired spices (I didn't use any extra)
Directions:
*Puree beans in food processor or mash with potato masher.
*Heat skillet on MED and add oil.
*Add beans, bullion, water, and spices
*Whisk and simmer beans until liquid is evaporated. Serve with chips and/or vegetables
Rollos De Primavera
(don't be scared, it looks like a lot of steps but I am just being thorough. You'll never pay $1/spring roll again!)
Recipe:
*1 large leek, white part only, thoroughly washed and chopped (can sub onion)
*1 small or medium onion, chopped
*1/2 small head cabbage, chopped
*1 carrot, grated
*several large mushrooms, chopped
*1 package (80z) Chik'n Strips (I use Morningstar Farms), chopped and sautee'd (DO NOT skip the sauteeing! A lot of people don't like these and I think they skip this step. They are yummy!)
*Sesame Oil

*Tamari or soy sauce
*Sriracha sauce (Asian hot sauce with rooster on in. Has spiciness but not the "unique" flavour of regular American hot sauce.)
*Spring Roll Wrappers (sometimes it is hard to find vegan ones. Check ingredients. Check your local Asian market. Mine look like this:

(You do not want the cold spring roll wrappers that you soak in water.)

EDIT- I am adding photos for the wrapping of the spring rolls because visuals help!

Directions:
*Cook vegetables in any order you wish. Season with desired amount of tamari and sesame oil. I sauteed the leeks and onions together until tender, set aside. Then I did the cabbage and carrot.
Then mushrooms by themselves (since they give off liquid). I cooked chik'n strips in a separate pan.
*I like to pulse the cabbage briefly in the food processor after cooking. I also do this with the chik'n.
*Mix all ingredients together in a large bowl and add more sesame oil or tamari. Drizzle Sriracha sauce and mix well. Chill if desired. It at least needs to cool to warm or room temperature.
*Place wrapper so it is pointing towards you.
*While keeping a damp paper towel over wrappers (and wrapped spring rolls), take a heaping tablespoon of filling and place in the middle of the wrapper.
*Wet edges with a mixture of flour/water or egg replacer/water. Fold bottom (facing you) corner over filling.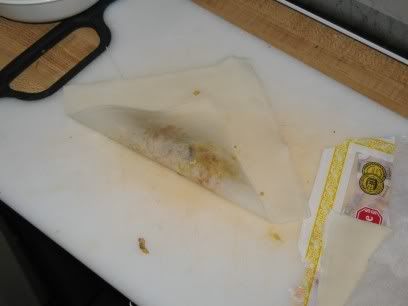 Roll up a little.
*Fold over edges on left and right side. Wet edges with flour/water again if needed.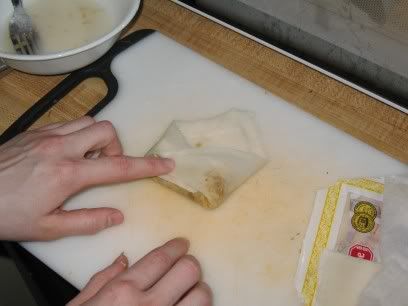 Roll up. Place each spring roll seam-down on a plate until ready to fry.
*Heat oil in a large pot on stead MED heat until a drop of water dropped into the pot cracks. You can also test oil by using a piece of food and seeing if it bubbles up.
*Drop spring rolls into pot a few at a time (don't crowd). Cook until the slightest bit golden. You can see if they are ready when you take them out (with tongs!!) by touching them. They should be crisp. Set on paper towel to drain.
Alternate Cooking:

I am happy to report that these also come out delicious baked! Make spring rolls as directed but instead of frying, coat a non-stick pan with a brush of oil. Place spring rolls seam-down and brush with more oil on top of spring rolls. Cook at about 400-425 degrees until golden (about 20 minutes?). Flip halfway through. Still delicious and crunchy with much less fat.