I made the Savory Vegetable Potpie from
The Candle Cafe Cookbook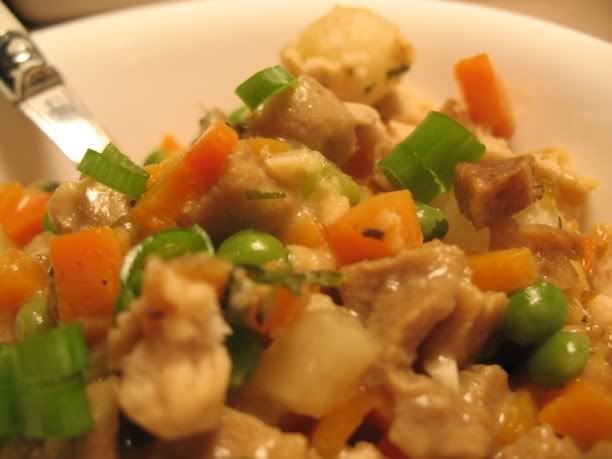 Some tips and alterations:
*I substituted seitan instead of using tofu** (Joanna's recipe- check Yellow Rose Recipes link for her blog. It was a tester recipe so I can't share but I assure you it's easy to do with delicious results).
*I added a genereous handful of pearl onions*
*I added 1/4 cup of Silk Creamer to the vegetable mixture- that only added 60 calories and 4 grams of fat to the entire dish.
*My only "complaint" was that the dough wasn't pliable enough. I used Safflower oil instead of sunflower oil. Maybe that was why. It wasn't dry or anything though. Also, I do not have a 1-quart baking dish so I used an 8x8 square pan. If you do this, I suggest making 1.5x the dough.
*Regarding herbs- this recipe uses a variety of fresh herbs. This can get expensive with you pay $2/small bag at he grocery store. What a rip! I suggest using dried (use 1/2 the amount called for) or growing a potted herb garden. In a very small space, we have basil, oregano, rosemary, thyme, and parsley. Plus, growing your own herbs is good fun for kids- they get to have a responsibility, see where their herbs come from, and help cook with them! I don't have 2-legged kids but it's just a suggestion.
I still don't know how to properly harvest them, I just rip them off the plant..so if anyone has tips on harvesting herbs w/o damaging the plant, leave me a comment! Thanks!
*Recipe calls for 1/2 a white potato and 1/2 sweet potato and essentially 1/2 zucchini. What to do with the leftovers:
Cube and saute zucchini and white potato for part of a breakfast.
Slice sweet potato into thin slices and bake or dehydrate- they make yummy dog chips- dogs love these! You can add nutritional yeast or brewer's yeast if desired. Never sub Brewer's for nutritional yeast in human-friendly recipes. You'll cry. It's disgusting. Dogs like it though.
*Pearl onions: I don't believe potpie is potpie without onions! I like pearl onions- delicate, sweet and small. I suggest buying frozen; they are more cost-effective AND they are already peeled- although to peel, just put fresh ones in boiling water for a couple minutes. They should slide off.
**Seitan- Make your own! It is $3+ for 8oz where I live. I can make 4x that in one batch. Find a recipe you like, stick with it, and freeze seitan if you have to. It's worth the time. Spend the $3 on your dog or making a cotton shopping bag instead.